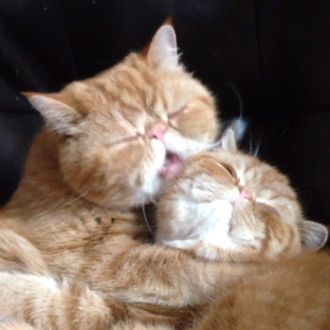 It's Friday, Friday, gonna get down on Friday (everybody's lookin' forward to the weekend).
Now that I have that atrocity stuck in your head, let's turn to the eight actually good things that happened this week.
1. Stephen Colbert donated over $800,000 to public-school teachers in South Carolina. Colbert announced this week that he would singlehandedly fund every DonorsChoose project created by a South Carolina public-school teacher, amounting to nearly 1,000 projects by 800 teachers at 375 schools.
2. A cat showed love for his brother by trying to eat his face. But in, like, an adorable way.
3. Liberia is expected to announce it's Ebola-free. On Saturday the African nation will announce it is has no new Ebola cases to report, having buried its last victim 42 days ago. The World Health Organization also announced this week that there has been a significant drop in new Ebola cases, reporting the lowest number of new weekly cases this year.
4. A cop dressed up as Superman and drove 11 hours to cheer up a little boy with cancer. Dallas police corporal Damon Cole heard about 7-year-old Bryce Schottel's battle with lymphatic cancer via the Internet, and decided to use his affiliation with the volunteer group Heroes, Cops and Kids to cheer him up. So he drove all the way to Illinois, showered Schottel with gifts and spent the day "playing video games and Matchbox cars."
5. McDonald's announced a new Hamburglar, and he's super hot. Also, he's wearing Yeezy's.
6. Scientists in the U.S. and Europe signed a cooperation pact. The deal allows various American and European scientific organizations to share research and collaborate on projects that will help further scientific discovery.
7. President Obama mended the heart of an 11-year-old South Dakotan. Obama visited South Dakota on Friday, finally granting little Rebecca her wish.
8. Three words: puppies in pajamas. Do I even need to say more?