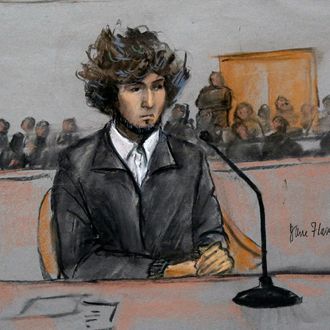 Photo: Jane Flavell Collins/AP
Dzhokhar Tsarnaev appeared to shed a tear today, exhibiting emotion for the first time in his nearly nine-week trial, as his aunt, Patimat Suleimanova, was escorted off the stand in tears, unable to compose herself enough to answer a single question. As her heavy sobs echoed throughout the courtroom while she made her way out, Dzhokhar wiped at his face with a tissue, a stark departure from his typically affectless expression. Patimat was joined in court by her sister and two daughters, who spoke about their family's history and Dzhokhar's early childhood.
The relatives, the sisters and nieces of his mother Zubeidat, were the first family members of the defendant to appear on the stand. They had originally been brought into the courthouse early on Thursday; a postponement owing to an ill juror required them to come back today. Their arrival in the city from Dagestan over a week ago set the local news media aflame and left the prosecution upset about the cost of their security arrangements, as revealed in the transcript of a sidebar conversation accidentally released to reporters. 
The first witness, Dzhokhar's cousin Raisat Suleimanova, was asked by his lawyer why it was important for her to make the trip. "I came for the sake of my brother whom I love very much. He's part of my family," she said. "I have no right not to come here. I categorically reject what he did. It's a great tragedy, of course." She later explained that she called him her brother owing to the closeness of the family relationship.
"I can only say good things about Jahar and that's not because he's my cousin. He was a very polite child, he was a very kind, very warm child. I think his kindness made everyone around him kind. I don't think there is anybody in our family who didn't like, didn't love him. He was a sunny child. If you looked at him you would want to smile even if you didn't feel good that time," she explained. Raisat recalled a particular memory when her aunt viewed The Lion King with Dzhokhar and he was brought to tears by the death of Mufasa. "She would say, I can't even understand how such a small child, he was 4 or 5, could sympathize so much, could understand tragedy," Raisat remembered.
Prosecutor Bill Weinreb bristled at the misty-eyed recollections of Tsarnaev during his cross-examination of Raisat. "You talked about Jahar's kindness but you agree that the act of bombing of innocent people isn't an act of kindness?" he asked her, before the defense team interjected with an objection. "You'd agree that a person who cries at the death of a cartoon character, but is indifferent to the death and suffering — " he followed up, not able to finish the sentiment before the inevitable objection.
Much of the day's testimony centered around the itinerant nature of the Tsarnaevs' childhood and their mother's increasing religiosity during that time. "They always live out of suitcases," Raisat recalled of the family, who frequently moved throughout Europe and Central Asia before coming to the U.S."We would even say, you're like gypsies you always move around." Feeding into the defense's argument that Zubeidat had become a fundamentalist and influenced her sons, Raisat's sister Naida recalled seeing her aunt for the first time in several years.
"She was wearing a hijab, she was wearing a black scarf. It was strange for us to see our aunt like that. When she lived here she dressed very well, she wore gold and diamonds. This dramatic change, it was very change to see her covered all over," she said. "My personal opinion, I'm a little scared of people who are completely covered." Why is that, she was asked. "Because many become extremist Islamists and start wearing all black."
Much of the description of Dzhokhar's seemingly sweet nature felt heavy-handed and echoed what the jury had heard earlier from his classmates and teachers, and testimony about their cultural norms and the conflicts of the region often seemed to drag on. Even the presiding judge, George O'Toole, seemed to become impatient with the proceedings, at one point snapping at defense attorney Bill Fick, "Let's get back on track. Remember what the case is about, please!"
With little new information introduced into the case today, it was Dzhokhar's tears, coming after his stone-faced reactions to the hours of gruesome accounts of the attack and the emotional testimony of his friends, that felt like the most memorable part of the day. It seemed that his family got to him in a way that nothing else has. As an aunt left the courtroom for the day, Dzhokhar turned, waving to her and blowing a kiss.