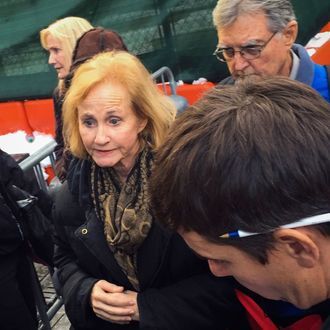 Lyn Ulbricht leaving her son's sentencing.
Photo: Reuters/Corbis
Ross Ulbricht, the convicted operator of the online drug market Silk Road, was sentenced in a federal court in Manhattan last Friday. Although he faced a minimum sentence of 30 years in prison, Judge Katherine Forrest imposed the maximum: life in prison, without the possibility of parole, and a fine of more than $183 million. Ulbricht's mother, Lyn Ulbricht, was in court for the sentencing and expressed her "shock and dismay" to Daily Intelligencer.
"The least we could hope for was the mandatory minimum of 20 years," she said, noting that would still be a "very long sentence for non-violent [crimes]." According to the Sentencing Reform Act, a judge is required to impose a sentence that is "sufficient, but not greater than necessary" — Ulbricht feels her son's sentence "went far beyond that requirement." "The judge made it clear that this was about making Ross an example in the government's war on drugs," she said. "Even if Ross is guilty of everything the government says he is, a life sentence is draconian. Murderers who actually kill someone don't get that."
One issue is that, although Ulbricht was not charged with murder, attempted murder, or murder-for-hire, the prosecution made allegations of such an element of their case, and the judge took those into account for the sentence. "If Ross were guilty of these accusations, why didn't the government charge him for them along with everything else?" his mother asked. "And if he is not charged, how is it fair to apply those allegations to sentencing?"
Ulbricht's mother continues to dispute her son's guilt on the charges for which he was convicted, and says his lawyer, Joshua Dratel, plans to appeal. One basis for appeal involves two federal agents, DEA agent Carl Mark Force and Secret Service agent Shaun Bridges, who have been charged with corruption (wire fraud, money laundering, theft of government property, and conflict of interest) during their investigation of Ulbricht and Silk Road. These agents allegedly had "high-level administrative access to Silk Road, with the ability to change passwords and PIN numbers, and to commandeer accounts, including that of its leader, Dread Pirate Roberts (DPR)," Ulbricht's mother explained. As court documents show, Force and Bridges are accused of obstructing justice in this case, including selling information about the investigation, and Ulbricht's attorney believes this raises some serious questions about who had access to the site and its controls.
"We're hoping Ross will win the appeal and not serve his life in prison," Lyn Ulbricht said. For now, "it looks like he'll be allowed to remain in New York City, so he can work with the lawyers on his appeal. He wouldn't be able to do that outside of New York, because he is deprived of email access."