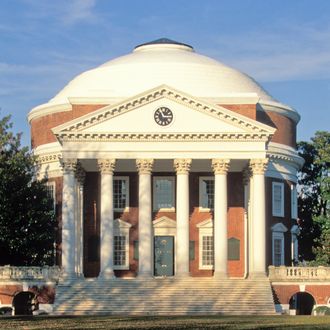 Photo: ?Nathan Beck/Omni-Photo Communications
University of Virginia associate dean of students Nicole Eramo is suing Rolling Stone and journalist Sabrina Rubin Erdely over her portrayal in their deeply flawed cover story "A Rape on Campus."
Eramo, who counsels sexual-assault victims and serves as the head of UVA's Sexual Misconduct Board, was portrayed in the story as an unsympathetic administrator who discouraged the narrative's victim, Jackie, from reporting her rape to the police. She's suing Rolling Stone, Erdely, and Wenner Media for $7.5 million in damages, alleging six counts of defamation. 
Among the complaints, Eramo alleges that Rolling Stone bought an image of her from a UVA student paper, then photoshopped her to appear "wild-eyed" and "as though Dean Eramo was giving a 'thumbs up' while the victim sits crying in front of her." 
Following the Columbia Journalism Review's publication of a 12,000-word report condemning "A Rape on Campus" as a "journalistic failure that was avoidable," Eramo struck back in an open letter addressed to Rolling Stone, saying the article "deeply damaged me both personally and professionally."
Rolling Stone retracted the story on April 5. A link to the original story now redirects to the CJR report.