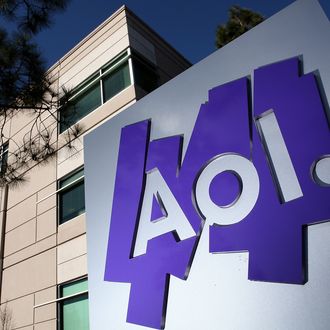 Photo: Justin Sullivan/Getty Images
Verizon has agreed to purchase AOL for a whopping $4.4 billion in an effort to expand its own video and content offerings. Also, because there's something sweetly nostalgic about those 500 free hours of dial-up CD-roms.
The all-cash deal will be finalized this summer and will make AOL a wholly owned subsidiary of Verizon. News of the acquisition sent AOL's stock soaring 17 percent this morning, while Verizon's dipped slightly.
AOL, of course, isn't just a limping dial-up internet business. It also owns a host of news sites, including the Huffington Post, Engadget, TechCrunch, and Moviefone. Drinks on Arianna tonight, everybody.