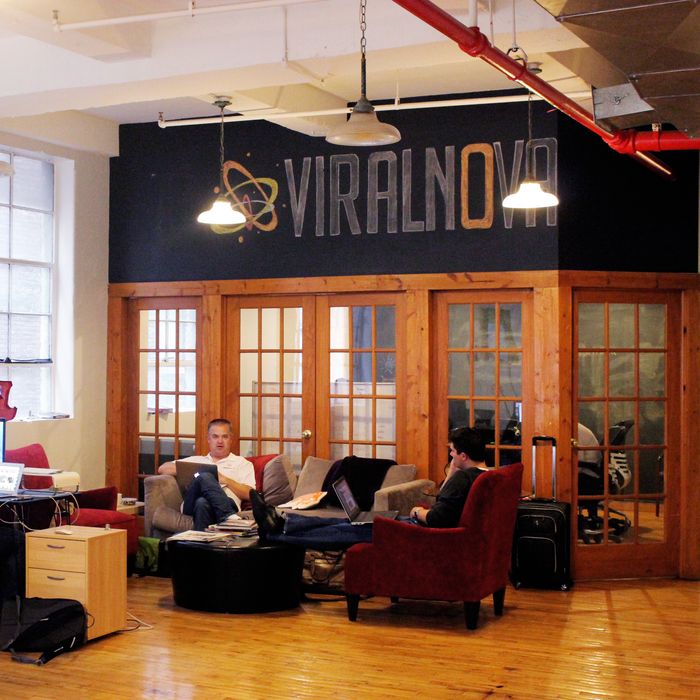 "I didn't want to be in Ohio much more anyway," Scott DeLong confides as he leads me through the new Manhattan headquarters of his website ViralNova. Dressed in a pristine white hoodie and jeans with dark hair and eyes, DeLong is clean-cut and approachable, like someone you'd happily bring home to mom. He looks like he's straight out of a Midwestern farm town, and he is — Uhrichsville, to be specific. But he's uprooted his rural existence building small internet sites from his bedroom to step into the role of viral entrepreneur.
Last fall, DeLong moved out of his house on the edge of a cornfield and into a condo in Chelsea with floor-to-ceiling windows. He rented midtown offices with a Silicon Valley vibe, featuring exposed piping, an open floor plan, and — of course — several video-game consoles. The dozens of smart, generally underpaid people working away in his midst are his employees. But DeLong wears the momentous change comfortably, framing the huge recent shift in his life in the simplest of terms. "Moving the site to Manhattan seemed like the perfect excuse to try out New York City," he says, before offering me a bagel.
Even though tens of millions of people share its content on Facebook, it's hard to find someone with anything nice to say about ViralNova. Deemed "horrific, illiterate and monstrous" by the Awl and dinged as "a BuzzFeed in a box" by the Atlantic Wire, it's widely regarded by people in New York media as the emblem of Everything That's Wrong With Journalism Today. Perhaps the critiques are tinged with envy: Measured by traffic, ViralNova is one of the fastest growing websites in history. Like an unfortunate style trend, one day it was nowhere and the next it was ubiquitous. Within a year of its 2013 launch, ViralNova had 100 million unique visitors. Numbers like that immediately catapulted it into the big leagues with sites like BuzzFeed, Huffington Post, and Upworthy. There was one key difference, though: ViralNova was still a one-man operation, bootstrapped from an Ohio bedroom. There were no outside investors, no free Kind bars, no marketing teams.
Anyone who's kept an eye on Facebook trending lists is familiar with ViralNova's editorial approach, mainly recognizable by headlines that both promise and withhold as they shamelessly plead for clicks: "This Old Couple Tragically Died in a Car Accident. But What Rescuers Found Inside Was Beautiful," "This 12 Year Old Girl Hanged Herself. The Note She Left Behind Shattered My World," and "I've Never Seen Anything So Heartbreaking In My Life. But It's Completely Beautiful At The Same Time." The stories themselves are usually no more than 150 words long and heavy on photos, videos and bolded text. DeLong attributes ViralNova's remarkable success to a formula that he says holds true across all social media platforms. "Sharing plus clickability equals virality," he explains simply.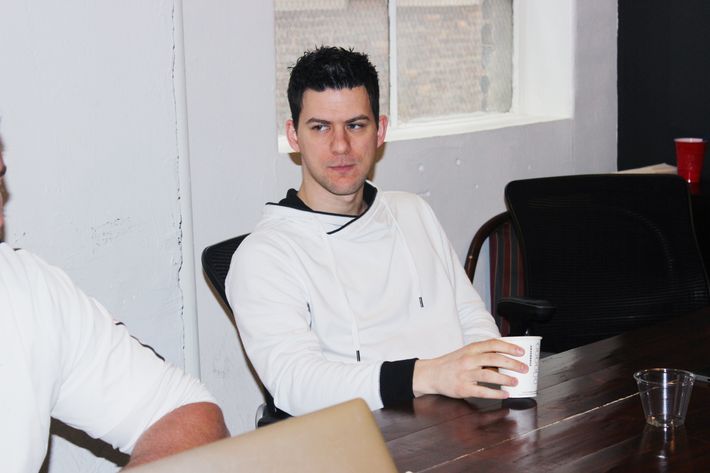 Riding the tsunami of traffic that this approach has generated, ViralNova has grown into a 25-person operation with revenues over $10 million — all without any outside investment. A new sponsored-content offering could send that figure much higher, even as it makes traditional journalists want to laugh, or cry, or launch into a snot-heavy combination of both.
Prior to starting this company, DeLong had launched several other minor web ventures that capitalized on viral content. Two of his most successful creations were a shock video site called Nothing Toxic and the Christian video-sharing network Godvine, which he sold in 2012 for $4.2 million. He was, in short, living the dream of getting rich while working in his underwear (if he chose to). ViralNova was just another effort to capitalize on his uncanny understanding of what people want to read and share. But almost as soon as it went live, it took over his life. He was working 16 hours a day, breaking only to sleep. "I can't believe at one point in my life I could go to sleep at midnight and wake up at 11 a.m.," he posted on Facebook at around that time. "What I would give to have that peace of mind and lack of stress again."
As the traffic spiked, he started having more and more technical problems — to the point that he decided, in keeping with his previous pattern, that it was time to sell. "There was definitely a month or so of just constant headaches and problems trying to run something by myself," Delong says of that time. "That was kind of the time where I was like, 'I have to do something.' It just put me in a position where it was kind of making life miserable." The news broke on Business Insider with a breathless headline: "One-Man Juggernaut ViralNova Is Up for Sale."
What changed his mind? What made him decide to come to New York and try his luck against bigger, savvier, vastly better funded competitors?  
"This guy right here," DeLong says as we settle into the conference room. "This guy" is Sean Beckner, a fellow 30-something good Midwestern boy who in mid-2014 persuaded DeLong to hire him as CEO. "He's got a much more seasoned background than I do for running companies and he laid out an idea that was like, 'Let's take this thing from your Ohio farm to Manhattan,'" DeLong said. Prior to joining Viral Nova, Beckner started his own mobile engagement and loyalty marketing business called Front Flip, and worked as a partner at TexasLending.com, a privately-held mortgage bank.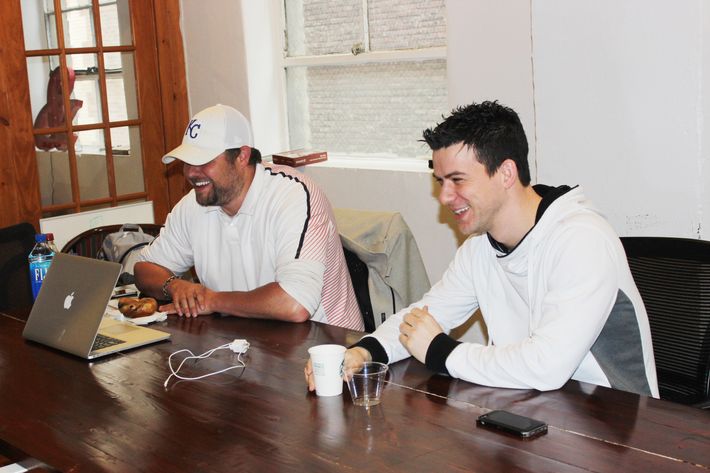 DeLong and Beckner do not view ViralNova as a journalistic enterprise, despite the fact that it competes directly with outlets like the Daily Mail. Instead, they see it as entertainment. Unencumbered by so-called "journalistic ethics" and not beholden to institutional standards, ViralNova is free to pursue the types of stories they excel at producing: material that is vaguely manipulative, mostly sappy, and wholly shareable. "The word viral is in our name, so we can't really escape that," Beckner said. "But for us, it's not really like, 'Hey, what's the next viral news hit?' It's like, 'Hey, what's a great piece of entertaining content that people are going to enjoy?'" he said. But the information itself is not totally irrelevant, he claims. "I think in this age people have such a short attention span, that if we can give a very easily digestible piece — you know, '20 Facts About the Human Body That You Didn't Know' — people are going to learn from that. I think there's value in that."
The concept of infotainment is nothing new, but its most established peddlers have branched out into more reporting in recent years, betting that longform stories can go viral, too, and bring helpful prestige with them. ViralNova doesn't share those same concerns. For one, they're entirely self-funded, so they have to be careful about how they spend — they can't take on expensive projects to burnish their image. While they don't plan a foray into reporting anytime soon, they are quick to tout their transition into more original content — even if that definition of "original content" differs from the one held by traditional publishers. ViralNova considers its writers' posts to be original if they discover the material on outlets like Facebook, Tumblr, or Reddit instead of another news site. Thus, when, say, publishing a story with work from an undiscovered artist, ViralNova thinks the act of finding the artist in itself was original. DeLong says they're looking to transition to a 50-50 ratio of viral news hits and original content, and says diversifying that way will be an important way they sustain their growth.
Now that DeLong has hired a team of writers, he no longer pens posts for the site, a task he says he definitely doesn't miss. DeLong and Beckner came to New York worried that they wouldn't be able to afford such a robust writing staff, but were happily surprised at how little writers in New York will work for. "Brooklyn is like a goldmine," Beckner said. "We can find so many people. Writers are actually very affordable in New York, which is very nice."
Those writers will also be tasked with creating more and more sponsored content offerings, the first of which debuted in March as a series of three posts about a social-mapping app called Scout. Since ViralNova is unconcerned with pursuing the loftier matters of capital-J Journalism, there's no business/editorial line the writers have to worry about crossing. Everyone can write posts and everyone can write ad copy. It's a neat business proposition — two positions hired for the price of one. Beckner and DeLong project they will double their ad revenue in 2015.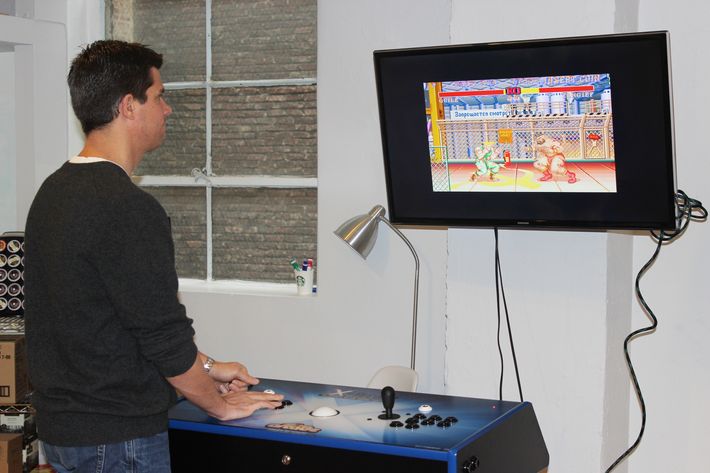 Just before the Easter holiday, DeLong traveled back to Ohio. He's taking a week off to spend time with family and escape the demands of ViralNova. His empire is growing, but the media business is volatile and unforgiving: One overzealous tweak to the Facebook algorithm could tank their share numbers and their traffic — and presumably their entire business. DeLong isn't ignorant of this reality. ViralNova's traffic numbers are already down — the site receives closer to 70 million visits now than the 115 million it got in its best month — but the company is working on a backup plan that includes posting content to Pinterest and collecting email addresses to start a newsletter.
Back in 2014, when Delong was faced with the decision of whether or not to sell the company, he realized that his whole future could depend on starting a new life outside that Ohio house he stands in now. "I just realized it was going to be important to start understanding the business world beyond the rural-Ohio, just-me-in-a-spare-bedroom world," he said.
So he understands it now, that business world beyond — the one that promises swank offices and steak dinners, but also carries with it the inevitable threat of demise.