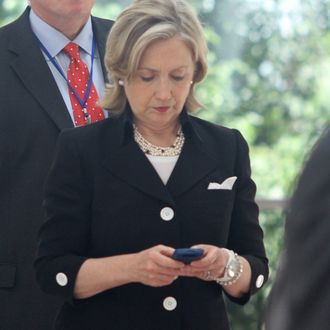 Secretary of State Hillary Clinton writes on her cell phone.
Photo: Na Son Nguyen/AFP/Getty Images
The Democratic primaries aren't expected to be one of the more exciting elements of the 2016 election, but the State Department had an idea to spice them up. The department has been sifting through about 55,000 pages of emails from Hillary Clinton's time as secretary of State, and according to The Wall Street Journal, on Monday the agency asked a federal judge to approve its plan to release the redacted records on January 15, 2016. That's just two weeks before the Iowa caucuses, the first hurdle in the nomination process.
However, the State Department's plan was not met with enthusiasm by the courts. On Tuesday, U.S. District Court Judge Rudolph Contreras said that the emails would have to be released in a "rolling production," not all at once next year. He did not say when the trickle of emails would need to start; the State Department has a week to come up with a plan, per Politico. The State Department also needs to announce when it plans to release the 300 Benghazi emails next week, since the agency's timetable has never gone much beyond "soon."
At a campaign event in Iowa today, Hillary Clinton echoed the federal judge, saying the State Department should "move as quickly as they possibly can to get them out."
Sources told Reuters last month that nothing in that trove of emails backs up Republican accusations that Clinton was personally involved in decisions that weakened security in Benghazi, or efforts to downplay the role of Islamic militants in the attack. On the other hand, the four emails released earlier this year in response to an Associated Press request regarding drone strikes contained shocking revelations about Clinton's decorating habits and iPad usage, so you never know what will turn up.
This new plan might be government staffers' worst nightmare, given how many emails they need to sort through — and the limited time they have to do it. According to the State Department's Monday filing, there are 12 full-time staffers reviewing the emails Clinton turned over in December, and some National Archives personnel have been helping State Department staffers weed out the purely personal correspondence. Just scanning the documents took five weeks, and the process was further "complicated" because some sheets were double-sided.
"Given the breadth and importance of the many foreign policy issues on which the Secretary of State and the Department work, the review of these materials will likely require consultation with a broad range of subject matter experts within the Department and other agencies, as well as potentially with foreign governments," wrote John Hackett, the State Department's acting director of the Office of Information Programs and Services.