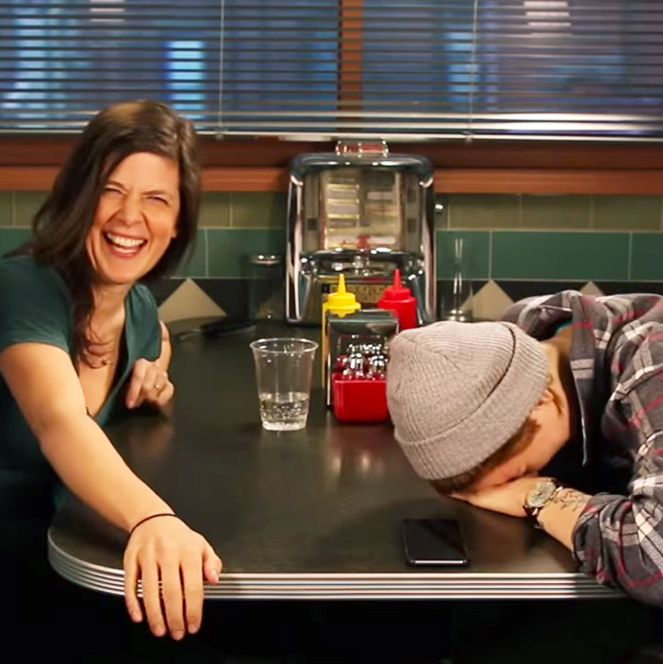 "Look, it can be nighttime in the diner or daytime in the diner!" says Dannielle Owens-Reid, kneeling on a blue leather banquette. As she slides a dimmer switch, the New York City streetscape behind the diner's windows plunges into dusk and then recovers to mid-afternoon brightness. Owens-Reid and her friend Kristin Russo are the stars, founders, and animating spirits of the YouTube channel Everyone Is Gay, a comedy-inflected advice series for LGBT youth. Today they have been shooting an episode on dating tips — hence, using the diner set — but Owens-Reid keeps dissolving into hysterics. "Don't break character in the middle of your date!" says Russo. "Don't go on a date with your best friend is a tip," says Owens-Reid, laughing again, and they end the session.
The phony restaurant, and the many other sets surrounding it, are all part of a soundstage called the YouTube Space, located on two floors just above YouTube's New York offices in Chelsea. The Space opened in October last year, joining four others in London, Tokyo, Los Angeles, and São Paulo. The idea of the Spaces, YouTube says, is to act as an incubator for the video-makers — always called "creators" — who make the company what it is.
Encompassing 20,000 square feet, the YouTube Space is done up in Google's signature primary-color scheme (Google bought YouTube in 2006), with a running trim of weathered wood meant to evoke the High Line, which runs behind the building along Tenth Avenue. The YouTube Space goes far, far beyond what a home movie-maker would appear to require. There are several black-box studios with pro-grade green screens and customizable layouts. The Space's bathroom doubles as a set for the increasingly popular makeup tutorial genre. If the black-on-black color scheme looks a little too fancy for your shoot, there's a powder room down the hall with the traditional round-bulb vanity that reads a little more like "dressing room." On the Space's second level, up a narrow staircase that can double as the stairwell for a "walkup apartment building," is a set called informally called "Brooklyn Apartment," which includes an overstuffed couch, a cluttered bookcase, and exposed-brick walls, and a set called "the Boardroom," with a fireplace and dark-wood paneling that also make it suitable for "intimate restaurant" or "seminar room." 
It's a weird kind of simulacrum game: One of the few remaining freestanding phone booths in New York City now lives in the YouTube space. And in February, the long-vanished CBGB, cradle of punk rock and staple of a grittier, bygone New York, reappeared for a limited engagement in Studio B. David Guetta, the French mega-D.J. and pop artist, visited the set to talk about the release of his new album, exclaiming, "I cannot believe that I am here, and it is like the coolest venue I've ever been to!" Other creators just used it as a regular bar set, noting that it was easier than getting permission to shoot in a functioning pub. (Sometime in February, the club's former owner moved the relics to the L.A. YouTube Space.)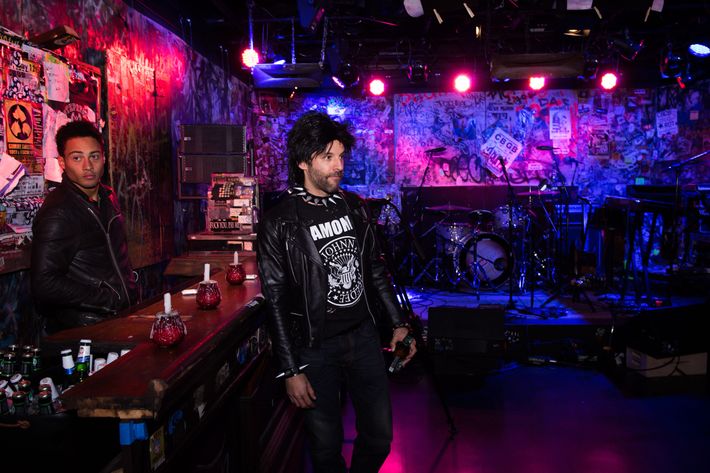 YouTube thinks of these meticulous re-creations less as filling an actual need — few creators in New York lack an apartment set to shoot in, one would think — than as a kind of creative prompt, like the way a writing instructor might have you riff on your worst meal ever, or tell a story in the second person. "It's not about bringing people in and trying to change their content," a YouTube spokeswoman told me. "How does having access to a stage or a full-body green screen or having access to a different type of camera allow your creativity to flourish? What does it lead you to do?"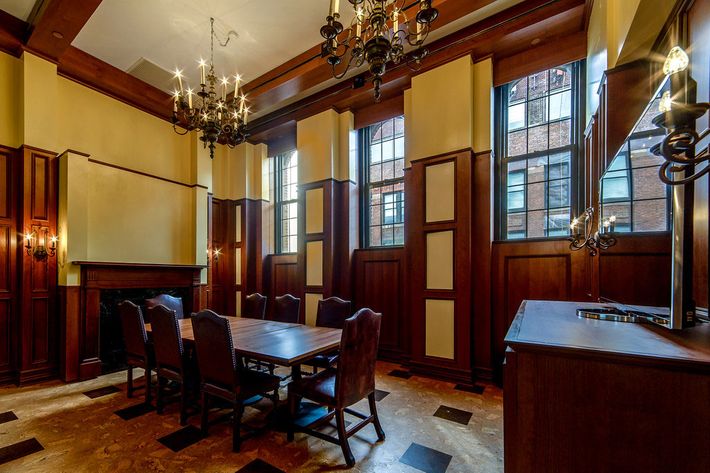 But if you are skeptical that YouTube would invest in lush studio spaces purely out of a sense of wonder and enthusiasm, you're onto something. YouTube is fastidious about commenting seldom and anonymously — presumably to minimize the reality that there are actual corporate strategists behind the site's homey, DIY feel — but the company, so far as anyone can tell, doesn't make a profit. The Wall Street Journal reported in late February that even though YouTube brought in about $4 billion in revenue in 2014, more or less all of it went back out the door. At the same time, competition is increasing; videos on Facebook's own user-generated service, Facebook Video, which autoplays your clips in your friends' news feeds, now gets 1 billion views a day and has seen the number of posts uploaded almost double in the last year. On Friday, Journal reported that Spotify is jumping into the web video market, too, exploring partnerships with companies that so far have specialized in producing content for YouTube.
The answer to whether YouTube will turn the financial corner rests not with its decision-makers in San Bruno, but with the millions of creators out there powering up their cameras. While rivals Amazon and Netflix rely on a license-based model and have roped in traditional talent to create original TV shows for their platforms, YouTube's DNA is different. For all of its vast scale and seemingly unlimited resources, the company is strangely powerless when it comes to the content that makes it run. "At YouTube we have a core belief," a company official wrote in a blog post in late April. "We only succeed if our creators do." In that way, the YouTube Space is an outgrowth of the paradox at the heart of the YouTube phenomenon: The company's prospects depend on manufacturing more and more content that seems unmanufactured.
**
YouTube's revenue model is pretty straightforward. Though the company has floated the idea of offering a paid membership service, the bulk of its business still comes from embedded advertising. According to reports, YouTube takes a roughly 45 percent cut of ad revenue generated from creators who opt into its monetization program. Different ad formats — skippable versus non-skippable, pre-roll versus clickable in-video banner — may command different rates, but the overarching calculus is that more clicks equal more dollars for both parties. According to recent estimates by marketing firm Outrigger Media for a story in Ad Age, the most-viewed food channel in March 2015, charliscraftykitchen, had more than 29 million views and could be earning its 8-year-old star (or her parents) as much as $127,000 per month, apart from YouTube's share of the plunder.
But retaining and nurturing the viral talent that can lure ad dollars has proven tricky. Several years ago, the company decided that its future lay in building loyalty to specific YouTube "channels." Rather than just going to YouTube to see the random clip your friend thought was funny, you'd subscribe (for free) to the channels of creators you liked. To promulgate that idea with users, YouTube spent $200 million in 2011–2012, creating and heavily publicizing more than 100 new channels, some from existing creators and some from brands like MotorTrend and celebrities like Sofia Vergara and Pharrell Williams. The company points to stats that it says prove the logic of the move: 86 percent of those channels are now in the top one percent of YouTube, the spokeswoman told me, and 80 percent of them are still actively uploading. But YouTube itself decided to back out of more than half of those channels only a year after launch, and within the industry and the tech press the initiative has been broadly panned as a failure. Meanwhile Netflix created House of Cards.
YouTube has periodically invested in publicity campaigns for top stars — including rounds of billboard ads and subway posters. Now, though, it's trying again to make direct investments in creators. This time, they've decided not to create new channels, but to fund new shows from proven creators whose channels are already thriving, through an initiative called YouTube Originals. Two weeks ago the head of Originals announced the first round of investments in four shows aimed at younger audiences. To take one example: Smosh, a sketch-comedy duo, will create a new series in which the protagonists work "at a theme restaurant where out-of-control kids and crazy parents are all in a day's work." YouTube also announced that it would partner with AwesomenessTV, a tween-oriented content-production company with a popular channel, to produce feature films that will debut on YouTube ahead of other screens.
But it is hard to be confident in YouTube's latest efforts to engineer viralness. Not only is the low-budget feel of YouTube videos clearly part of the appeal — to such an extent that companies like Colgate are now using YouTube stars in ads designed to look like homemade clips — but the alchemy of YouTube success on the platform seems to defy engineering. What executive could have predicted, say, that Michelle Phan, who has 7.6 million subscribers and was featured in a YouTube billboard blitz last year, would have built a global persona around looking into the mirror and talking about how to put on makeup? Or that Felix Kjellberg, a Swedish millennial who goes by the handle PewDiePie, would become the single most popular channel on YouTube by playing video games onscreen in front of a homemade green screen? His 36.5 million subscribers, whom he routinely addresses as his "bros," outnumber the population of Canada by 1.4 million.
Then there is Disney Collector, a faceless woman whose channel, Fun ToyzCollector, is a staple of YouTube's sui generis "unboxing" category. In her 1,400 videos, Disney Collector does nothing but open cartoon- and princess-branded toy eggs in extreme closeup while narrating the action. Her 4.4 million subscribers accord her enough celebrity that the Daily Mail recently launched an investigation into her true identity, concluding that Disney Collector is in fact a Brazilian former porn star named Daiane DeJesus. I'd heard about the channel from my sister, whose young children adore the channel, and I spent a good while recently watching the Collector's long fingernails peel away the foil and pop open egg after egg. No one — no one — given a million dollars would invest it in a video channel about toy eggs. Yet a recent clip featuring Bubble Guppies characters has racked up more than 7 million views, each one served with a pre-roll ad. Reached for comment about the channel's appeal, my 5-year-old niece said, "I like the cracking noise the eggs make." 
**
A few weeks after I visited the YouTube Space, Everyone Is Gay posted their first date advice video. "We came to this restaurant," Owens-Reid begins.
"It looks so real, right?" says Russo. "It's not! It's a YouTube Space studio!"
Owens-Reid lifts up the steel napkin dispenser and pokes its spring-loaded flap. "Not a single napkin!"
Access to the YouTube Space's production facilities is tiered: Workshops are open to all, but a creator can only use the production facilities like the diner set once she notches 10,000 subscribers on her channel, at which point she can book studios and equipment one day per month. Creators who reach 100,000 subscribers can book three days per month; for those with a million or more subscribers the quota is six days. On the evening I visited, Everyone Is Gay was shooting in the diner and the founders of the science explainer channel AsapSCIENCE were doing a live-streamed show and book signing to the delight of a live audience of fans, some of whom were visiting from other countries.
For Everyone Is Gay, the big draw of the Space isn't so much the sets as the equipment, the cameras and lighting that let them churn out professional-looking videos without having to rent gear or hire a crew. As you might expect, they have found little use for the black-box studios. The apartment set is kind of obviously not a real apartment and very obviously not either of theirs, Russo admitted. Although she and Owens-Reid are grateful for access to the Space, they're a little hesitant to use a backdrop that might appear on "70 other channels." They are learning to work with some of the non-bookable spaces within the Space "that look a little more personal," like a hallway corner with natural light. The two had booked another lengthy shoot for a few days after we spoke. If they weren't certain about the material that came out of that session, Russo conceded, "We'll just do some stuff in my apartment."