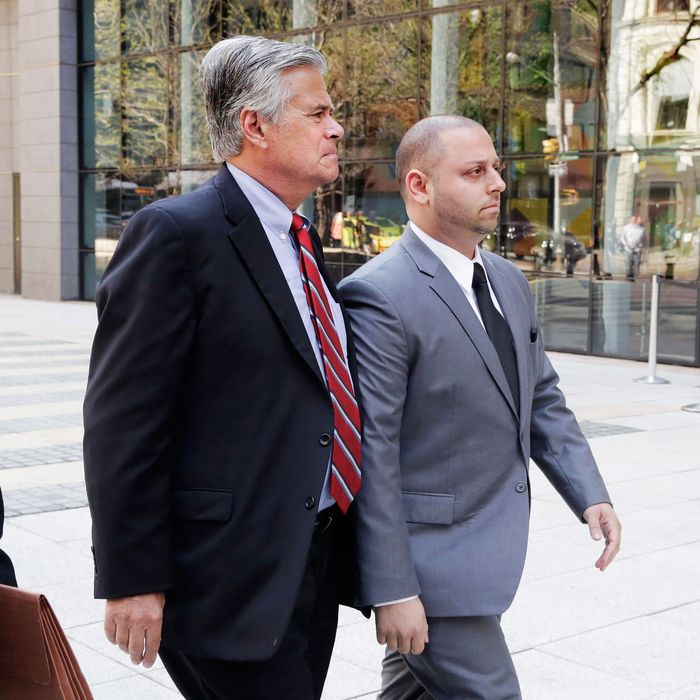 New York Senate Majority Leader Dean Skelos and his son Adam arrive at FBI offices, Monday, May 4, 2015, in New York.
Photo: Mark Lennihan/AP/Corbis
After a two-week tease of front-page stories in the Times, Dean Skelos, the Republican majority leader of the New York State Senate, and his son, Adam, surrendered for arrest this morning. The indictment against them stems from the younger man's efforts to land government contracts for an Arizona environmental company in the older man's political home base, Long Island.
The names, the party affiliation, and the locations change, but the fundamentals of the allegations have become depressingly repetitive: A state official cashes in on his or her influence. A little more than three months ago the defendant in question was a Democrat, Shelly Silver, accused of taking bribes and kickbacks of $4 million, some of the money being listed as "referral fees" for steering asbestos cases and real-estate developers to Silver-connected law firms.
Silver was booted from his position as Speaker of the State Assembly, after initially trying to keep his job. "We always need to fight amongst ourselves a bit," a Democratic state lawmaker says — affectionately — of his colleagues. "The Republicans are better at closing ranks and making a clean transition." Back in 2008, when federal investigators were pursuing Joe Bruno, then the Republican Senate leader, Bruno voluntarily stepped aside — turning over his leadership role to Skelos.
The betting in Albany has been that Skelos will hang on as Senate leader, at least through the end of this spring's legislative session. But the situation is volatile, and the details of the indictment aren't pretty — including a claim that Skelos pressed for payments to his son's company outside a wake for a slain Nassau County cop.
If Skelos goes, Cathy Young (who represents a district south of Buffalo), John De Francisco (suburban Syracuse), and John Flanagan (north central Long Island) are considered the leading contenders to become majority leader.
For the immediate moment, though, all the attention is once again on Preet Bharara. After indicting Silver, the U.S. Attorney for the Southern District of New York held a vivid press conference, complete with charts diagramming Silver's alleged misdeeds and a memorably ominous Bharara one-liner when asked if he had more Albany corruption cases in the pipeline: "Stay tuned." But that event, plus a couple of speeches, earned Bharara a rebuke from a federal judge who criticized the prosecutor for staging a possibly prejudicial "media blitz."
So it will be interesting to see how Bharara officially announces the charges against Skelos and son later today. Even if it's quietly, though, the headlines from the Skelos saga will overshadow a smaller, intriguing story that also emerged this morning, shedding light on another mystery raised by the Moreland Commission.
Leonard Litwin, one of the state's biggest real-estate developers and one of New York's most prolific donors to politicians of all stripes, including Governor Andrew Cuomo, may have helped fund a Virginia outfit that ran TV attack ads that helped Skelos and the Republicans retain a majority in 2012 . Litwin also seems to have turned up in Bharara's case against Silver. Stay tuned, indeed.