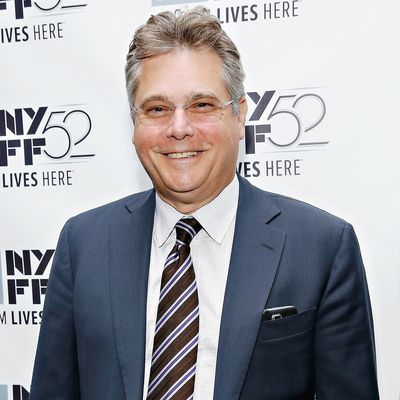 Real estate executive Charles Dorego is a key informant in the case against Skelos.
Photo: Cindy Ord/Getty Images
Never mind legal or illegal in Albany. The harder line to draw is often between comic and ironic.
Consider: Adam Skelos — who was arrested Monday for, among other things, trading on his father's political power to land a $12 million contract to filter polluted Long Island storm water — was caught on a wiretap saying he "literally knew nothing about the water, or, you know, any of that stuff."
One key confidential informant in the case against Skelos is Charles Dorego, a top real-estate executive. Dorego is also a member of the board of REBNY, the powerful real-estate lobbying group. "Having grown up on the far east end of Long Island," reads Dorego's REBNY bio, "Charlie is actively involved in the cause of keeping water clean in the area."
A little too active this time, apparently. It certainly wasn't Dorego's interest in water purity, however genuine, that had him arranging for Adam Skelos to receive $20,000 in payments for phantom work — it appears to have been to curry favor with his father, Dean Skelos, the majority leader of the state Senate. (Adam and Dean Skelos have both declared their innocence in the case.)
"He's a very good legal and political operative," an Albany insider says. Political connections are Dorego's specialty, and that's why the fact that Dorego is cooperating with Preet Bharara has set off big waves of worry in Albany. "Everyone's jaw dropped when they heard Charlie's name," one capital operative says. "He's a guy who drove a lot of resources to a lot of candidates. And because he was the guy you could go to for a contribution, he probably talked to every lawmaker. Was he ever wearing a wire?"
Dorego is a personable, 61-year-old father of two, with sandy hair gone gray around the temples. "A cautious guy," an Albany insider says. "He looks like your cousin."
"Charlie comes across as average," one state senator says. "But he's too slick by a half, always in the middle of some scheme."
Dorego, a lawyer, worked for 11 years in the real-estate department at the law firm Stroock & Stroock & Lavan. In 2001, he was hired by Leonard Litwin's Glenwood Management. Glenwood, like most big real-estate developers and landlords, cares deeply about rent regulations and the 421-a program that provides tax breaks for construction projects, and it has doled out $3.6 million in contributions during the past four years to New York politicians on both sides of the aisle. The company also figured into the indictment of Shelly Silver, who is accused of steering Glenwood business to a friendly law firm and pocketing fees without doing any other work.
Litwin is now 100 years old and has handed over responsibility for day-to-day operations to his daughter, Carole. Dorego's role at Glenwood was making the rounds of city and state lawmakers. During the 2013 election cycle, he was the director of Jobs for New York, REBNY's independent expenditure vehicle, and also found time to bundle money for mayoral candidates Scott Stringer ($149,900) and Bill de Blasio ($9,900).

Dorego, as a board member of the Litwin Foundation, helped the family direct money to Alzheimer's research, and he's on the board of trustees of Bobby Kennedy Jr.'s Waterkeeper Alliance. Perhaps Dorego flipped because Bharara has something incriminating on him; maybe it's because, as one of his colleagues claims, "Charlie has a conscience." Or maybe he finally got tired of Dean and Adam Skelos leaning on him for money.