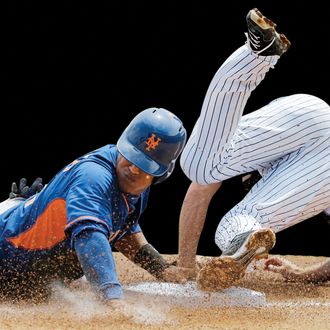 The smart bet is probably always on the Yankees.
Photo: Kathy Willens/AP/Corbis
When you write for a magazine, the minute you start praising a baseball team's season is the minute it loses six in a row and everything's exploding everywhere. Momentum is the next day's starting pitcher, and trying to make any definitive statement about a baseball team on any given day, particularly before Memorial Day, is like trying to catch a hummingbird with chopsticks. By the time you figure out where it is, it's already gone.
So, that caveat out of the way: How about those Mets? After nearly a decade of sustained, almost methodical cruelty toward their fans — to recap: a devastating defeat a game away from the World Series (2006), followed by two crushing late-season collapses (2007 and 2008), followed by six consecutive losing seasons and, oh, yeah, an inextricable tie to the largest financial scam in American history (that's Bernie Madoff's Ponzi scheme, which may have cost the franchise about $500 million) — the Mets began their 2015 season like a house afire. After a 2-3 start, they rattled off 11 consecutive victories, including ten in a row at Citi Field, shrugging off injuries to David Wright, Zack Wheeler, and catcher Travis d'Arnaud and plowing through the dregs of the National League East (for what it's worth, they didn't reach their tenth home win in 2014 until May 22). They've since stumbled, losing five of seven, but still, what an April! The Mets are sitting pretty, comfortably on top of the division, and have become the baseball story of 2015 so far, not just in New York but everywhere, behind a stingy rotation, an opportunistic lineup, and the undeniable boost of having Matt Harvey (the best show going in baseball right now — his starts are beginning to feel like Hollywood-blockbuster openings or Flushing's version of Comic-Con; you half expect fans to be wearing lanyards and Harvey-inspired Batman masks). Baseball's always a little more vivid and compelling when the Mets matter. In 2015, they matter.
The 11-game win streak felt like a reward for a decade of pain, so it's little wonder there has been so much Mets-taking-over-the-city talk, particularly with the Yankees looking older and more past their prime than ever. Things started their heavy decline last season, but this is really the year the Yankees pay the piper for their now two-decades-long strategy of signing contracts like they'd never actually have to pay them. After their ill-fated attempt to get under the $189 million payroll threshold, the Yankees this season are paying nine different men more than $10 million apiece, none of whom (with the possible exception of Brett Gardner and, ironically, Alex Rodriguez) are among the top ten at their respective positions. And they keep getting worse. Manager Joe Girardi has done his best to keep the train on the tracks, but the Yankees are getting older, slower, and more brittle. You can sense the front office knows it: The theme at Yankee Stadium has been more past than present, with the largest promotional events revolving around the retirement of the uniform numbers of Jorge Posada, Bernie Williams, and Andy Pettitte and not around, say, the guy currently on the roster passing Willie Mays in homers and reaching 3,000 hits (that's Rodriguez, who, at least at the start of the season, had his own resurrection narrative going). The Yankees might be able to hang around a lessened AL East, but it's undeniable that they're trending in the wrong direction. This has even shown up in TV ratings: SNY has pulled roughly even with YES in game broadcasts. The Mets are the hot thing right now.
The Yankees' two-games-to-one victory in the season's first Subway Series aside, excitement around Citi Field and uninterest in the Bronx have led some to wonder if we're about to enter an era like the 1980s, when the Mets owned the city and the Yankees were a footnote. But a lot has changed since then. The irony of what's going on with the Mets right now is that while this unlikely success is a culmination of what Sandy Alderson and his team have been working on since they arrived, the Mets' window, now that it has finally cracked open, may already be closing. Even though, for the first time in more than two decades, it's more fun to be a Mets fan than a Yankees fan, if you were to place a bet on which franchise's fans will enjoy the next ten years more … the smart bet is probably still on the Yankees. The smart bet is probably always on the Yankees.
Last month, in its annual MLB Future Power Rankings — meant to gauge the health of major-league franchises — ESPN gave the Mets their highest ranking since it began the feature: No. 7 overall, ahead of both teams that made the World Series last season. The ranking was largely based on their impressive minor-league system — No. 4 in baseball, according to ESPN's Keith Law — but it came with a warning from ESPN's Buster Olney: "Matt Harvey is represented by agent Scott Boras and will be eligible for free agency after the 2018 season, and he seems unlikely to sign long-term with the Mets. So the franchise appears to be entering a four-year window of opportunity to win." This is the ultimate plight of the Mets: You crawl your way back to relevance, and already someone's telling you, "Okay, you've got four years. Better hurry."
This seems a tragically small window, particularly when you note that the Yankees, for all their problems, came in at No. 8 … the second-lowest they've ever been in the rankings. By the time Harvey hits free agency, that farm system will be producing major-league talent and the Yankees will have finally gotten CC Sabathia, Mark Teixeira, Brian McCann, Carlos Beltran, and others off the payroll. Sure, the Yankees might just — probably will just, actually — go sign some other overpriced veterans they'll immediately regret. But there are reasons to think they'll be smarter this time around — especially since the Yankees are already now overspending in smarter ways. Last year, they purchased ten of the top 30 (and four of the top ten) of Baseball America's top international prospects. The star of that crew was Dominican outfielder Juan De Leon, a five-tool teenager many consider the second coming of Yasiel Puig. But he was just the start. The Yankees are still spending their way out of trouble, but they're doing it right. Remember, the foundation of the Yankees' late-'90s run was not free-agent stars but its farm system. They are trying to build their next Core Four.
The Mets won't be able to match that, even if they ever do get out of the Madoff hole; heck, the way the Yankees' payroll situation is shaping up, they're likely to be in a position to outbid the Mets in 2018 for … Matt Harvey. (Batten down the hatches, folks.) The Yankees could also go after Bryce Harper in 2019, or Mike Trout in 2020. They won't have A-Rod or anyone else weighing them down then, either. The Mets have … well, until they prove they have money to spend, they have what they have now. And as much fun as this start has been, and as nice as some of those prospects are, the Mets are not building a juggernaut. They are building a team with some impressive young pitching — at a moment when cheap pitching is more accessible than ever and when pitcher injuries are the signature story of the age — and a few interesting hitting prospects.
So, can they win now? It's possible. Two division rivals (Atlanta and Philadelphia) are in the midst of extended rebuilding projects, another (Miami) always feels on the precipice of self-destruction, and the last (Washington) should be terrific this year, though they've started very slowly and are about to run into some serious payroll problems. The next three years could be something special for the Mets and something ugly for the Yankees. But this idea that there's about to be some seismic shift in the city's allegiances, that it'll be the '80s all over again, with Flushing rocking and the Bronx ignored … I just don't see it. Through 2017, maybe 2018, I'll take the Mets, but after that, I bet the universe goes back to normal and the Yankees go back to flaunting their superiority. And all will feel right again.
*This article appears in the May 4, 2014 issue of New York Magazine.