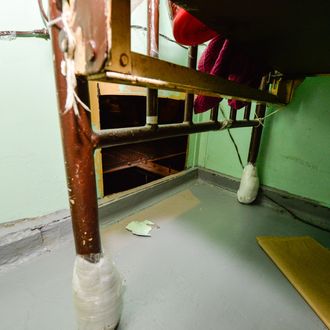 Part of the escape route.
Richard Matt and David Sweat, the two convicted murderers who managed to drill their way out of an upstate New York prison early Saturday morning, have still not been caught despite the hundreds of local, state, and federal law enforcement officers (plus "several" aircraft) currently looking for them. Governor Cuomo acknowledged on Sunday that the men "could be anywhere in the state."
Cuomo amended that statement on Monday, saying the escapees could be "anywhere in the country." Since the Clinton Correction Facility is so close to Canada, international borders have been told to be on the lookout too. There are many forests nearby, too, since the correctional facility is in the Adirondack Mountains. 
"A significant amount of time has elapsed," Cuomo said. "The truth is we have a number of leads but nothing that would lead us more specifically to where they are now or what direction they may be headed." For those not sufficiently freaked out by the situation, the governor added: "These are dangerous men capable of committing grave crimes again."
However, Lenny DePaul, the former commander of the U.S. Marshals Service Regional Fugitive Task Force for New York and New Jersey seems confident that Matt and Sweat will be found. "They all think they've got it figured out, that they've done the right thing and they'll never be found again," he told the New York Times. "But they're going to screw up. Someone's going to screw up."
The New York Post reported on Monday that a female prison worker at Dannemora — not a guard — was questioned and removed from her post. The Post went on to note that Matt, according to a source, "has a way with the ladies." 
Authorities think that more than one person may have helped the prisoners escape, and that the whole operation may have taken a long time to plan.
This is not the first time Matt, who is serving time for torturing, killing, and dismembering his ex-boss, has broken out of prison. In 1986, he escaped Erie County Correctional Facility for four days. He also absconded from a group home when he was 13. 
Matt and Sweat escaped on Saturday, when a family day was planned at the correctional facility. Major construction was happening on the premises, too, and investigators think that tools left by contractors may have been used to make the cuts made by the inmates. Besides the dummies that helped Matt and Sweat's absence escape detection for so long, the pair also left a racist sticky note that read, "Have a nice day.''
"A little bit of a comedian in them," Cuomo told the Today show on Monday, "but I plan on giving them back that note."
Cuomo also announced a $50,000 reward for information leading to the capture of either Matt or Sweat (or $100,000 for both of the men). Once again, here's what they look like: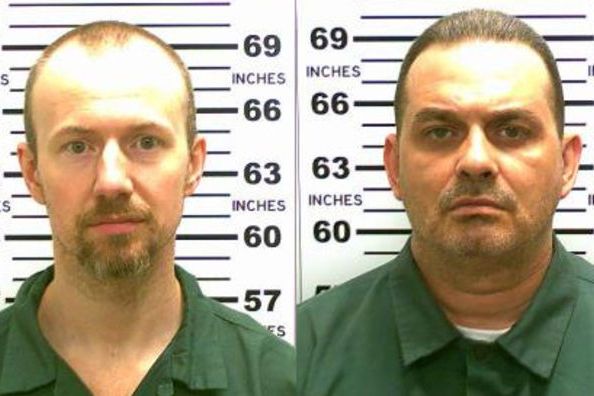 Law enforcement officials who have had experience with the two escaped convicts in the past have been warned of their disappearance. David Bentley, a retired detective from the town where Matt used to live, told the New York Times, "If he were to come to my house, I'm prepared to defend myself, and I think it would be a bad day for him."