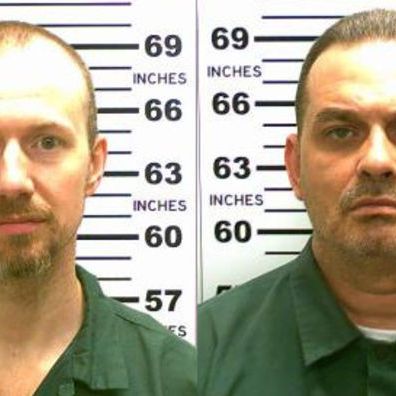 David Sweat and Richard Matt.
Here's some not-so-comforting news on this nice weekend: New York State officials say that two convicted murderers are now on the loose, having escaped from an upstate maximum security prison on Saturday. According to the police, the two men — 48-year-old Richard Matt and 34-year-old David Sweat — were found to be missing during an early morning bed check at the Clinton Correctional Facility in Dannemora, which is about 20 miles from the Canadian border.
Matt and Sweat "left dummies with sweatshirt hoodies in their beds so it would appear they were sleeping during walk-throughs conducted every two hours," the New York Daily News reports. The pair appears to have left the prison by "drilling through cell walls, stealing through plumbing tunnels and then climbing out a manhole." ABC News reports that the men used "power tools in several spots that they used in their escape through tunnels." It's not clear how they managed to get hold of the tools.
"By definition, it was an extraordinary act," said Governor Andrew Cuomo of the escape. "These are not people to be trifled with." In a Sunday appearance on Good Morning America, Cuomo speculated about the role Matt and Sweat's fellow prisoners might have played in their escape: "I chatted with a couple of the inmates myself and said, 'You must be a very heavy sleeper.' They were heard, they had to be heard."
Sweat was serving a life sentence for the 2002 murder of a Broome County sheriff's deputy. Matt was jailed for 25 years to life for kidnapping and beating a man to death in 1997. In an interview with the Associated Press, the brother of Sweat's victim said that news of the escape "turns your world upside-down all over again." "I couldn't remember their names," he said of the people involved in his brother's death. "All of a sudden, I remember them again."
The authorities have set up roadblocks in the area surrounding the prison, and a massive manhunt is now under way. Here's a description of Matt and Sweat, via ABC News:
Matt is described as standing 6 feet tall, weighing 210 pounds and having black hair and hazel eyes. He has tattoos reading "Mexico Forever," a heart on his chest and left shoulder, and a Marine Corps badge on his right shoulder, police said.

Sweat is described as standing 5 feet 11 inches tall, weighing 165 pounds and having brown hair and green eyes. He has tattoos on his left bicep and his right fingers, police said.
Obviously, these guys are considered dangerous (nobody knows whether they're armed). Anyone who sees them is advised to stay the hell away and contact the police.
This post has been updated throughout.