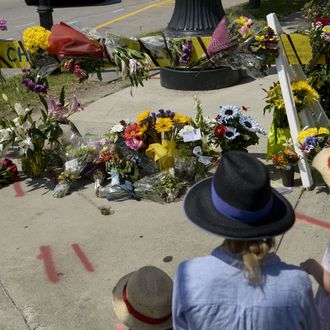 Photo: Brendan Smialowski/Getty Images
Photo: Brendan Smialowski/Getty Images
Last night's brutal attack on parishioners at the Emanuel AME Church in Charleston, South Carolina, was shocking in the way all mass shootings are shocking. But it wasn't a new tactic for violent white supremacists, who've been attacking black churches for as long as there have been black churches. In the past 25 years, dozens of black churches have been burnt down, firebombed, or otherwise vandalized by racists. Here's a list of as many of those attacks we could find.

July 16, 1993 — A group of eight skinheads is arrested after the FBI uncovers a plot to bomb Los Angeles's First AME Church, kill its congregation with machine guns, and assassinate Rodney King in an attempt to ignite a race war.

August 13, 1993 — Three men use a burning cross to set on fire a Fort Dodge, Iowa, church with a mixed-race congregation.

February, 1995 — Three men in Sumter County, Alabama, get drunk and take sledgehammers to the pews, windows, and kitchens of three black churches.
January 8, 1996 — The Inner City Church in Knoxville, Tennessee, is hit with 18 Molotov cocktails in the middle of the night. Painted on the church's back door were the words "Die N—– Die!" and "White Is Right."
January 11, 1996 — Little Zion Baptist Church and Mount Zoar Baptist Church, two black churches within six miles of each other in rural Alabama, are turned to ashes on the same night.
February 8, 1996 — The Justice Department begins investigating a rash of fires at black churches in rural Alabama and Tennessee.
June 7, 1996  — The Matthews-Murkland Presbyterian Church in Charlotte, North Caroline, is set on fire. It's part of an 18-month long string of intentional fires set at southern black churches.
March 22, 1997 — Two men in Ferris, Texas, burn down the Macedonia Baptist Church ""cause it was a ni**er church." 

March 26, 1997 — A 23-year-old man is the nation's first arsonist prosecuted under the federal Church Arson Prevention Act after he burnt down a black church in Henderson, Nevada.
June 30, 1997 — Five white men and women between the ages of 18 and 21 burn down a 21-member church in Little River, Alabama.

January 12, 2004 — Two white men break into a black church in Roanoke, Virginia, and cause $77,000 in damage.
July 11, 2006 — A cross is burnt outside a black church in Richmond, Virginia.
November 4, 2008 — Hours after President Obama's first inauguration, three white men in Springfield, Massachusetts, doused the partially constructed Macedonia Church of God in Christ in gas and set it ablaze.
December 28, 2010 — A white man attempting to "gain status" with a white-supremacist gang firebombs a black church in Crane, Texas.
June 17, 2015 — Dylann Roof kills nine people at the Emanuel AME Church in Charleston, South Carolina.