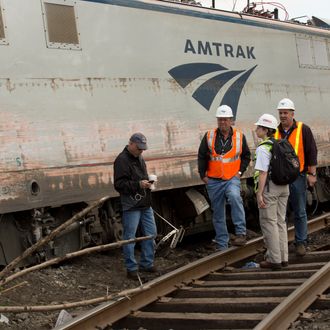 Officials on the scene of the Amtrak Train #188 derailment.
Photo: NTSB.gov via Getty Images
Amtrak engineer Brandon Bostian does not appear to have been using his cellphone during last month's deadly Amtrak crash outside of Philadelphia. The latest investigation from the National Transportation Safety Board also shows he "did not access the train's Wi-Fi system while he was operating the locomotive." Bostian has not remembered anything that happened during the crash. His lawyer has said that all the engineer recalls is "coming to, finding his bag, getting his cellphone and dialing 911." 
Before the train derailed, killing eight, it accelerated to 106 mph. The speed limit in that stretch of track was 50 mph. Investigators wondered if Bostian may have been distracted before the crash.
The engineer gave authorities his passcode so the investigation could be conducted without relying on the phone manufacturer. Because of the way phone data is saved and routed, the investigation was slow. 
In other Amtrak news, the House passed legislation yesterday that would cut the railroad service's budget by $242 million. The legislation also sets aside funding for installing inward-facing cameras on trains, which investigators believe would have helped explain what happened before the accident.