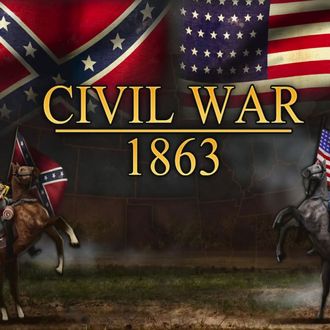 State and local governments, retailers, and other entities continue to assess what to do with the Confederate flag, a week after the terrible shooting in Charleston shocked lawmakers into considering how hurtful the symbol could be — especially when flying in front of a state capitol. Several states in the South have taken down battle flags or at least begun discussing the possibility. Statues of Confederate leaders are being cataloged and condemned, and museums should be ready to make room for relics of a time in American history that we shouldn't forget — but have had no need to glorify for quite some time. 
Retailers have also begun removing flags from stores and merchandise. As is bound to happen when brands get involved in national debates and moments, some responses seem unnecessary — especially Apple's decision today to disappear all Civil War–related games from the App Store. When Apple informed the affected developers, including the makers of Ultimate General: Gettysburg and Civil War: 1862, they quoted existing policy: "Apps containing references or commentary about a religious, cultural or ethnic group that are defamatory, offensive, mean-spirited or likely to expose the targeted group to harm or violence will be rejected."
Few greeted Apple's attempt to just erase the Confederate flag from history with applause, seeing as the company appeared to miss the point of the debate over the battle flag being used in government-sanctioned contexts a bit. Movies and TV shows featuring the Civil War — Lincoln, Glory, Ken Burns — are still available for purchase on iTunes, as is The Dukes of Hazzard — a show which uses the Confederate flag in the enshrining way, which people have objected to this week, and which caused Warner Bros. to cease licensing of the "General Lee." And, as the Huffington Post notes, a Birth of the Nation app, featuring the racist D. W. Griffith silent movie about the beginning of the Ku Klux Klan, is still available for download too.
A new browser game featuring the Confederate flag called "BooFlag" is still available to play online — and was just created this week. According to the Verge, "booing the flag long enough triggers a win screen exclaiming, 'Good job! Institutional racism and epidemic gun violence probably addressed.'"
Here are some other places and people that have removed or considering removing Confederate imagery in the past day. For more on what happened earlier this week, click here.
Senator Sherrod Brown of Ohio introduced an amendment to the highway funding bill that would withhold federal infrastructure funding from states that have Confederate flag license

 

plates.
Representative Bennie Thompson of Mississippi introduced a resolution in Congress today that would ban state flags including themes from the Confederate battle flag from the

U.S.

Capitol. The House voted — mostly along partisan lines, according to Reuters — 240-184 to send the resolution to the Committee on House Administration. Thompson, the only black lawmaker in Mississippi's congressional delegation, told reporters, "I've been around this institution a long time and I know when people don't want to take a tough vote and when you don't want to take a tough vote, you refer it to

 

committee."
Baltimore Mayor Stephanie Rawlings-Blake is moving to change the name of Robert E. Lee

 

Park. 
A school board in Fort Smith, Arkansas, voted to retire Southside High School's song — "Dixie" — and its mascot — "Rebel" — in a meeting on Tuesday. The song and mascot had been used at the school for more than 50

 

years.
In Tennessee, lawmakers are calling for Nathan Bedford Forrest State Park to be renamed. Forrest was the first grand wizard of the Ku Klux

 

Klan.
The mayor of Pensacola, Florida, Ashton Hayward, ordered that the Confederate flag come down from the city's "Five Flags" display. It will be replaced with the Florida state

 

flag.
Per a request from the National Park Service, Gettysburg National Military Park's Museum and Visitor Center's bookstore will no longer sell items that depict the Confederate flag with no other context — a policy change that will affect 11 of the 2,600 items on sale there. The National Park Service asked all parks to voluntarily remove Confederate flag items.
Rhode Island Novelty stopped selling Confederate flags this week. When a Providence Journal reporter asked the company's chief financial officer why it was being discontinued, he replied, "I think somebody got word that it was considered

 

racist."

NASCAR

said on Tuesday that the car-racing organization supports Governor Nikki Haley's decision. "As our industry works collectively to ensure that all fans are welcome at our races,

NASCAR

will continue our long-standing policy to disallow the use of the Confederate flag symbol in any official

NASCAR

capacity. While

NASCAR

recognizes that freedom of expression is an inherent right of all citizens, we will continue to strive for an inclusive environment at our

 

events."
Leland Summers, commander of the South Carolina branch of Sons of Confederate Veterans, announced today that he and his organization plan to fight plans to remove the Confederate battle flag from the state Capitol — and that the Charleston shooting suspect was "getting the race war he desired" with the debate over the flag. He declined to announce further plans out of respect for the families of the nine

 

dead.
As

ABC

News points out, the problematic flag isn't only being used in the

U.S.

— the flag is often used in Northern Ireland and sometimes appears at Italian soccer games. Right-wing anti-immigration politicians in France and Germany sometimes deploy the battle flag, and a small band of people living in rural Brazil — descended from Confederates who fled the United States — dress up like soldiers and sing 19

th

-century songs a few times a

 

year.