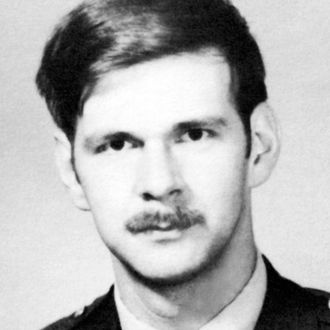 Dr. John Henry Hagmann in 1980.
Photo: Reuters
A former Army doctor has been suspended by the Virginia medical board for allegedly performing freak experiments on human subjects, often with the help of ketamine injections. Lieutenant Colonel Dr. John Henry Hagmann, who retired from the U.S. Army in 2000, owns a private medical company called Deployment Medical International, which received $10.5 million in federal funding to train personnel how to treat battlefield wounds. That training also appears to have included a lot of weird penis-related stuff.
According to Reuters:
During a July 2013 DMI training seminar in North Carolina, the report says, participants were given eight shots of rum in 10 minutes, followed by an injection of the hypnotic drug ketamine about an hour later. One participant then received a type of anesthesia called a "penile nerve block." When another student refused to undergo the procedure, Hagmann volunteered himself as a subject.

On another occasion in the same month, the report alleges, Hagmann exploited two trainees "for personal gain and sexual gratification" at his Virginia farm. He is also accused of conducting "shock labs," a process in which he would draw blood from the students and monitor them for shock before returning the blood to them via transfusions.
Hagmann denied performing any of the procedures for "sexual gratification." He said the allegations against him were largely lobbed by "animal rights advocates or those with an anti-military agenda." Hagmann has long been a target of PETA due to his practicing of live-tissue training, in which he uses wounded live animals like pigs to help train students in trauma treatment.
Hagmann's license was suspended in March, and a hearing is set for June 19, when the medical board will determine whether or not to revoke his license.
"It seems like this is a renegade contractor visiting abuse on military personnel and live animals," Georgia representative Hank Johnson said. "It's mind-boggling. It's like a diabolical mad scientist at work in a horror movie."