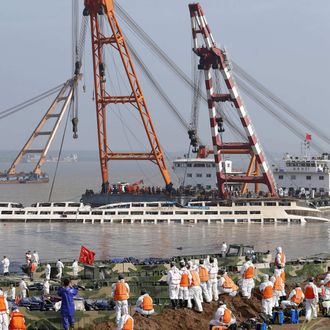 Rescuers work to hoist the capsized ship Dongfangzhixing in the Yangtze River.
Photo: AFP/Getty Images
Four days after the Eastern Star capsized in China, authorities flipped the ship back over, hoping to find the hundreds of missing passengers who remain. Many family members expect that the missing passengers are dead. As one man, whose parents, aunt, and uncle are missing, told CNN, "It was almost a sure thing that nobody was alive."
Only 14 survivors have been found from the 456 people on the cruise, many of whom were elderly tourists. One-hundred-and-three bodies have been recovered. Floating cranes and 50 divers helped right the ship, which had flipped over during a tornado in the Yangtze River on Monday night. 
It is the deadliest maritime disaster that China has suffered in decades, and Chinese authorities have been slow to explain what they have learned about the boat's final moments afloat. The captain was one of the survivors; he has not explained why he did not stop when the weather grew severe, as many other ships in the region did. 
Authorities have promised to "absolutely not cover up anything," but the families of the missing and journalists have been exceptionally frustrated by the response to the tragedy. Family members have accused police officers of beating them when they asked to learn more about what was happening. Others have seen people following them. Access to information has been limited beyond Chinese state news agencies. Stella Wu, whose mother was on the ship, told the Los Angeles Times, "We need to unite and make clear what our demands are. We will not make trouble and not cry anymore — we have used up all of our tears. We just want to know the truth."
A newspaper owned by People's Daily, what the New York Times called "the official Communist Party mouthpiece," published an editorial on Friday that took issue with how media outlets outside China have covered the tragedy. "Some foreign media outlets are eager to take advantage of the relatives' agony and rub salt into their wounds," it reads, "creating confrontations between people at the center of the event and those at the periphery. This is really unkind."
Now that the boat is right side up, relief workers will go from cabin to cabin looking for the remaining passengers. Coffins in nearby Jianli have been lined up, waiting for the additional bodies expected from the disaster site. Relatives of the passengers have been donating blood samples so DNA matches can be made. A photo-developing shop promised to print funerary portraits for free.