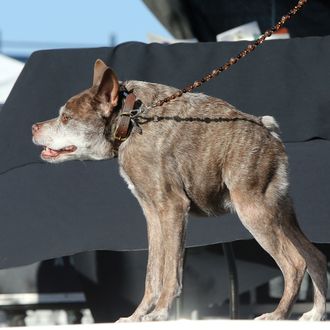 Stay weird, dog.
Photo: Splash News/Corbis
Quasi Modo, a hunchbacked Dutch shepherd/pit bull mix, has won the annual World's Ugliest Dog competition, held in the California town of Petaluma yesterday. The 10-year-old pooch, who the Associated Press reports was rescued from a Florida animal shelter by his veterinarian owner, out-uglied 25 other pups for the $1,500 top prize, as well as a makeover on Jimmey Kimmel Live! Quasi Modo's unique hunchback is the result of a spinal birth defect. According to the event organizers, "Judges score the dogs on their first impression, unusual attributes, natural ugliness (cannot have been altered for purposes of the contest), personality and audience impression," and chief judge Brian Sobel remarked that Quasi Modo "epitomized excellence in ugliness."
Also, lest we forget there is another important contest under way:
Previous years' winners can be found here, here, and here.