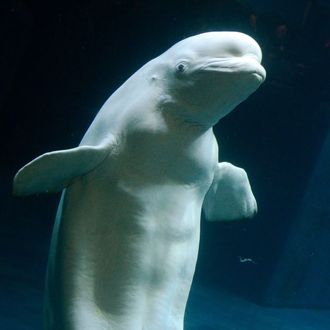 Photo: Mark Ralston/AFP/Getty Images
Three baby beluga whales have ditched the chilly waters of their arctic origins and made the trek down to the Jersey Shore, perhaps in the hopes of buying some boardwalk funnel cake and riding the Seaside Heights Ferris wheel. 
The whale trio was spotted on Monday in the Shrewsbury and Navesink rivers in Highlands, New Jersey, and is thought to be the same group observed in Long Island over Memorial Day weekend.
While it's nice to think the whales are enjoying their vacation down the shore, wildlife experts are worried they'll become trapped in the river with no way of getting back home. If that happens, rescuers will be on hand to guide them back to the deep blue sea.