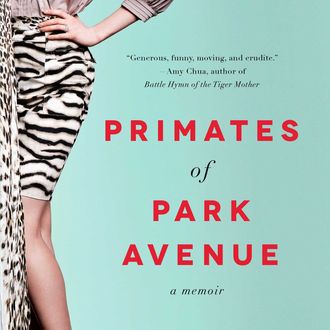 Since the Wednesday Martin introduced the world to the "wife bonus" while promoting her memoir Primates of Park Avenue, there's been much controversy over whether or not the practice is sexist, as well as whether it actually exists. (Martin told New York's Annie Lowrey, "I don't necessarily think it's a trend or widespread.") A Sunday New York Post article detailed other "holes" in Martin's memoir/study of wealthy Upper East Side wives, such as anachronistic references to Ladurée, Physique 57, and Uber. When confronted, Martin told the tabloid she "telescoped certain parts of the narrative in order to protect the privacy of friends, neighbors, associates and family."
Now the New York Times reports that a "clarifying note" will be added to future editions of the book. "It is a common narrative technique in memoirs for some names, identifying characteristics and chronologies to be adjusted or disguised, and that is the case with Primates of Park Avenue," says Cary Goldstein, Simon & Schuster's vice-president and executive director of publicity.
Come on! Readers deserve to know whether UES wives used Ladurée macarons as a hostess gift, or some other, inferior macarons.