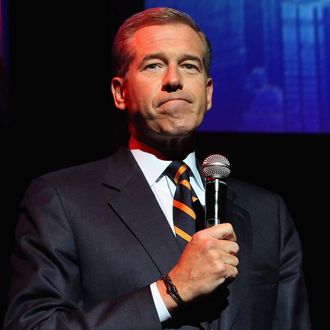 Brian Williams.
Photo: Monica Schipper/Getty Images
Brian Williams's initial on-air apology in February, in which he explained that "in an effort to honor and thank a veteran … I made a mistake," only made the situation worse, but he'll soon be a master of apologies. The NBC press release announcing that Williams will return to the network — or rather MSNBC — when his suspension ends in August, included this statement from the former NBC Nightly News anchor:
>
The release also noted that Williams was interviewed this week by Matt Lauer, and presumably there will be more mea culpas in the segments airing Friday on Today and NBC Nightly News.
But apparently that doesn't sufficiently convey how sorry he is. Williams has been meeting with groups of colleagues in what has been dubbed an "apology tour." Per CNN Money:
Williams spent time with staffers of his former program, the NBC Nightly News, on Thursday afternoon, shortly after the network made it official that he will not return to the newscast.

It was "incredibly emotional," and some people choked back tears, said an attendee, one of two people familiar with the meetings who described them on condition of anonymity.

Williams then traveled to Washington to meet with staffers at the NBC bureau there on Thursday evening.

That meeting was also emotional, but for different reasons. Some well-known NBC journalists in the Washington bureau are wary of Williams; others are downright hostile.