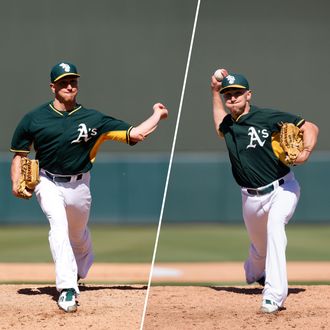 Pat Venditte throwing left-handed, and right-handed.
Photo: Michael Zagaris/Oakland Athletics/Getty Images
Pat Venditte, who for years has garnered attention in the minor leagues for his ability to pitch with both arms, has finally been called up to the major leagues by the Oakland Athletics. The promotion comes nearly seven years after his bizarre pro debut in Brooklyn, while a member of the Staten Island Yankees. A 45th-round draft pick of the Yankees in 2007, Venditte made his debut for Staten Island against the Cyclones on June 19, 2008, and just a few batters into his pro career, hilarity ensued.
He entered the game in the ninth inning, and the fourth batter he faced was a switch hitter, determined to get the best possible matchup. (In baseball, it's generally easier for a right-handed batter to hit against a left-handed pitcher, and vice versa.) The batter kept switching sides of the plate while Venditte kept switching his specially designed six-finger glove to the other hand. Eventually, after much confusion, the umps intervened and Venditte (pitching right-handed) struck out the batter (hitting right-handed).
No one seemed quite certain of the rule at the time because switch-pitchers are virtually unheard of. Since the start of the 20th century, only one pitcher has ever used both arms in the major leagues: Greg A. Harris, a natural right-hander who'd first learned to throw with his left arm while playing winter ball in Mexico. But Harris had trouble convincing the various clubs he pitched for to let him do it in a major-league game, even as he practiced throwing left-handed behind the scenes. Bobby Valentine, his manager in Texas, considered it a distraction. Lou Gorman, the GM in Boston while he was with the Red Sox, said it would be a mockery of the game. He finally got the chance to do it, in the ninth inning of a late-September game in 1995, his final big-league season.
But with a full-time switch-pitcher starting his career, a clear rule was needed, and shortly after Venditte's debut in Brooklyn, the Professional Baseball Umpire Corporation, in consultation with Major League Baseball's Rules Committee, came up with guidelines. Here's the most important part:
The pitcher must visually indicate to the umpire, batter and runner(s) which way he will begin pitching to the batter. Engaging the rubber with the glove on a particular hand is considered a definitive commitment to which arm he will throw with. The batter will then choose which side of the plate he will bat from.
Venditte learned to throw with both arms when he was just 3 years old, while playing catch with his father. As Venditte explained to USA Today this spring, "He thought that if there could be switch-hitters, why not a switch-pitcher?" He eventually learned to throw three pitches (a fastball, a slider, and a change-up) with both arms.
Venditte worked his way up to triple-A in the Yankees farm system in 2012, but tore the labrum in his right shoulder and didn't make it back to that level until last year. He never pitched in the major leagues with the Yankees, and when he became a free agent this past off-season, he signed a minor-league deal with Oakland. Many have looked at him as a novelty, but he's been pretty effective in the minors, with a career 2.37 ERA. This year, pitching for Oakland's triple-A club, he had a 1.36 ERA and 33 strikeouts in 33 innings.
The A's begin a series against the Red Sox in Boston tonight.