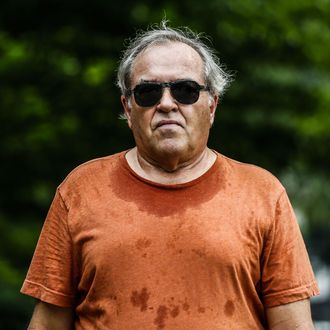 Nothing says summer like wearing a giant sweat necklace.
Photo: Kena Betancur/AFP/Getty Images
The summer solstice was last weekend, and the weather gods have responded by cursing New York City with will-crushing humidity that makes humans so weak all they can do is complain about the humidity.
It will end, however. Tomorrow is supposed to be far nicer — sunny and gorgeous even — although the city has to make it through the very windy thunderstorm scheduled for the evening first. The National Weather Service warns that "damaging wind gusts and large hail will be the primary threats," and a severe thunderstorm watch is in effect until 9 p.m.
In short, you should probably leave work now — or plan on never leaving — unless dancing in hail is your preferred method of staying cool.