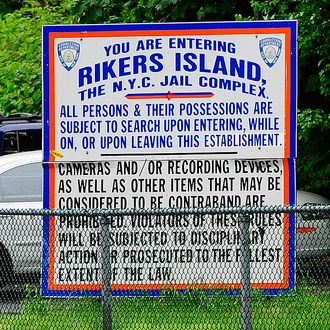 Photo: Emmanuel Dunand/AFP/Getty Images
After months of negotiations, New York City and federal officials are reportedly close to finalizing an agreement that would introduce many new reforms at Rikers Island. The deal could include appointing a federal monitor, a requirement that guards be watched more closely for how they use force, a pilot program of 100 body cameras, and 8,000 new security cameras. 
The obviousness of other reforms make it clear why the class-action lawsuit that prompted this deal — which was joined by U.S. Attorney Preet Bharara's office last December — was filed. Correction officers would be prohibited from hitting inmates in the head — or the "face, groin, neck, kidneys, and spinal column." Kicking prisoners or using chokeholds will also be prohibited.
Federal authorities announced charges against three people last week in the investigation regarding inmate Ronald Spears, who was beaten to death in 2012. 
The agreement should also offer many reforms for teenage inmates — an issue that has been in the news a lot because of Kalief Browder, who waited on Rikers Island for three years without a trial, for a crime he was eventually cleared of. Browder was found dead by suicide earlier this month. The deal calls on New York City to find a different place to house inmates under 18 — a place accessible by public transportation.
Although there are a few disagreements left to resolve in the deal, a spokesperson for Mayor Bill de Blasio has told reporters, "we fully expect a successful conclusion to this process within a few days." According to the New York Times, Bharara has been impatient for the deal to be finished. "Every day that goes by where we don't have enforceable and enduring reform at Rikers Island is one day too many."