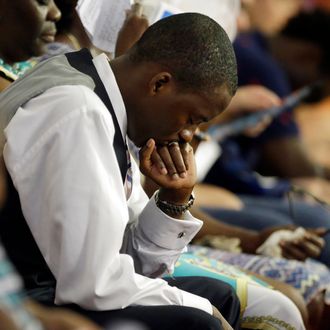 Parishioners pray as they attend the first service at Emanuel AME Church four days after a mass shooting.
Photo: David Goldman/Getty Images
This morning, the Charleston church that was the scene of last week's deadly mass shooting reopened for the first time since the racially motivated attack. According to the Associated Press, a diverse crowd, including the city's mayor and South Carolina's governor, filled Emanuel African Methodist Episcopal Church to sing, pray, and mourn the nine members of their community killed Wednesday night, including the church's pastor, Reverend Clementa Pinckney. The historic black church, often called "Mother Emanuel," has named Reverend Norvel Goff as pastor for the immediate future, and during today's service he declared, "The doors of the church are open, praise be to God. No evildoer, no demon in hell or on Earth can close the doors of God's church." 
According to the New York Times, today's service "opened with an emotional hymn as nearly the entire congregation stood and sang 'You are the source of my strength, you are the strength of my life,' rounded out with a big 'Amen' that was followed by a standing ovation." Outside the church, a spillover crowd mixed with hundreds of well-wishers, media members, and police officers, who had screened those in attendance and done a security sweep of the building and surrounding area prior to the service. Flowers and cards were piled up outside the church as well, and large signs of support were hung from surrounding buildings. 
Today's mourning and reflection in Charleston was of course not limited to one church, as many other congregations held similar services throughout the self-labeled "holy city." Also, at 10 a.m., Charleston's churches simultaneously rang their bells for nine full minutes — one for each victim — while city residents stood outside, listening in silence: