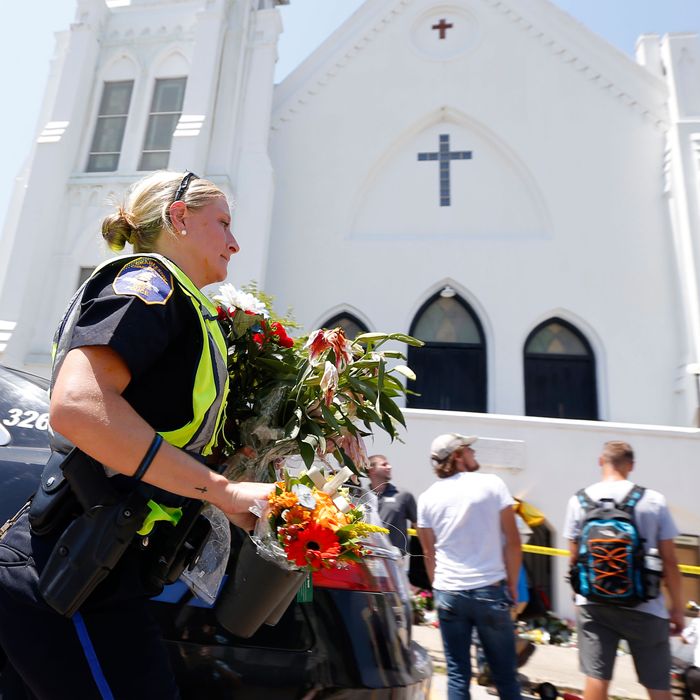 Charleston police officer T. Graves carries flowers, Thursday, June 18, 2015 to a make-shift memorial in front of the Emanuel AME Church in Charleston, S.C. The alleged shooter, Dylann Storm Roof, 21, spent nearly an hour inside the church Wednesday night before killing six women and three men, then tried to outrun an all-night manhunt before a citizen in the next state spotted his car and tipped police, Charleston Police Chief Greg Mullen said. (AP Photo/Stephen B. Morton)
Photo: Stephen B. Morton/AP/Corbis
The Charleston County coroner has officially identified the nine people killed at Emanuel African Methodist Episcopal Church (also known as Emanuel AME).  The victims — whom 21-year-old Dylann Hood shot to death as they attended bible study — include a pastors, parents (and grandparents), a state senator, a librarian, and a recent college graduate.
Reverend Clementa Pinckney
As was first reported on Wednesday night, State Senator Clementa Pinckney, the church's 41-year-old pastor, was killed in the attack. "He was called to the ministry when he was 13, ordained at 18, elected to the House at 23 and the Senate at 27," said J. Todd Rutherford, the minority leader of the state House of Representatives. "He was a man driven by public service." Pinckney had been the youngest person to ever join the South Carolina State House and the youngest African-American to ever become a South Carolina State Senator. After the fatal shooting of Walter Scott earlier this year, he had been one of the loudest voices calling for legislation to mandate body cameras.
Pinckney's colleagues in the state legislature have been quick to praise the man and call for justice. Democratic State House Majority Leader Todd Rutherford told a local news station, "Senator Pinckney was just such a great guy. Couldn't get him to pick a fight with anybody. Not even politically."
Republican State Senator Larry Grooms, who served with Pinckney for 15 years, told a local TV station, according to Talking Points Memo, "He was my colleague but he was also my brother in Christ, and the news of his death and the deaths of the others, made me physically ill."
Cynthia Hurd 
The Charleston County Public Library closed all 16 of its branches in honor of 54-year-old Cynthia Hurd, who worked for the system for 31 years. "Her loss is incomprehensible, and we ask for prayers for her family, her co-workers, her church and this entire community as we come together to face this tragic loss," said a statement released by the CCPL.
In 2003, Hurd (who was also the president of a nonprofit that offered assistance to people in public housing) told the Charleston Post and Courier, "I like helping people find answers." She added that she enjoyed being a librarian because, "Your whole reason for being there is to help people."
BuzzFeed reports that the St. Andrews Regional Library, where Hurd served as manager, will be renamed after her. 
Reverend Sharonda Coleman-Singleton
In addition to serving as a reverend at Emanuel AME, 45-year-old Sharonda Coleman-Singleton worked as a speech therapist and girls' track coach at Goose Creek High School. "As a teacher and a coach, she was very professional in everything she did," a former colleague, Chuck Reedy, told the Post and Courier.  "She was an excellent role model for all of our students, in the way she carried herself. She was just first class."
Coleman-Singleton had three children. The coach of her son's college baseball team, Stuart Lake, described her as "just that parent that as a coach you are proud to have as part of your program. What she brought to our team is immeasurable." A cousin, Constance Kinder, told Buzzfeed that Coleman-Singleton was "pretty on the outside and just as beautiful on the inside. The one thing I know for sure she loved the lord, so she was where she enjoyed being."
Tywanza Sanders
27-year-old Tywanza Sanders graduated from Allen University last year, with a degree in business administration. The university's interim president, Lady June Cole, said, "He was a quiet, well known student who was committed to his education. He presented a warm and helpful spirit as he interacted with his colleagues."
Michele Gray, who described herself as Sanders's best friend, told WMBF, "You would never forget that big ol' smile that he always had on his face… So, just to think I'll never see that smile again in person is very heartbreaking." A local ABC News reporter who was acquainted with Sanders, Tessa Spencer, said she believed he died while trying to save an older female relative from Roof's gunfire. 
Ethel Lance
Seventy-year-old Ethel Lance was a decades-long member of Emanuel AME and served as a church sexton for over 30 years. Her grandson, Jon Quil Lance, told the Post and Courier she was "a Christian, hardworking; I could call my granny for anything. I don't have anyone else like that."
Susie Jackson
87-year-old Susie Jackson, Lance's cousin, was a longtime member of Emanuel AME, where she sang in the choir and served as an usher. "This is tragic because she's a very helpful person," her grandson, Tim Jackson, told ABC5. "It's real real hard. It's challenging because I don't believe she deserved to go this way. It hurts to process."
DePayne Middleton Doctor 
The Post and Courier reports that 49-year-old DePayne Middleton Doctor was the retired Charleston County director of the Community Development Block Grant Program. She had four daughters, according to the New York Times.
Reverend Daniel Simmons Sr.
74-year-old Simmons was a retired pastor who served as a member of Emanuel AME's ministerial staff. His daughter-in-law, Arcelia Simmons, told ABC News that he "attended Emanuel AME Church every Sunday for services and Wednesdays for bible study." "We love him and we miss him," said his granddaughter, Ava Simmons. Another granddaughter told Mashable, "My grandfather was an amazing man. It seemed like everything that he spoke was pure wisdom."
Myra Thompson
Myra Thompson, 59, was the wife of another local reverend, Anthony Thompson, according to a Facebook post by Archbishop Foley Beach.