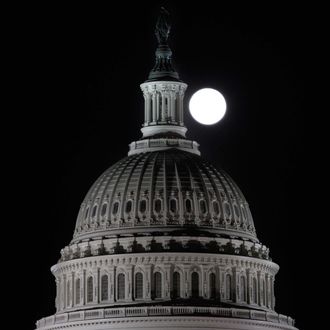 Be afraid. Be very afraid.
Photo: Hyungwon Kang/REuters/Corbis
Hundreds of officials are meeting in Bonn, Germany, this week to try to edit an 89-page draft into a few pages of text that 190 countries can agree on, down to every last comma. The leaders are getting ready for the U.N. Climate Change Summit in Paris this December, where the aforementioned nations are supposed to shake hands and agree to fight greenhouse emissions.  
Unsurprisingly, officials have a lot of negotiating to do before they'll be anywhere close to agreement. And even if the countries do manage to work out the many kinks in the deal, they will have to figure out how to vanquish the most terrifying obstacle of all. 
Congress. 
"We know the politics in the U.S.," French foreign minister Laurent Fabius said on Monday, according to The Guardian. "Whether we like it or not, if it comes to the Congress, they will refuse."
Exhibit A: the Kyoto Protocol. Congress isn't just skeptical of climate-change treaties, however. The legislative body has a long history of being wary of international agreements, which has awarded it status as an apparently oft-told diplomatic scary story.
"We must find a formula which is valuable for everybody and valuable for the U.S. without going to the Congress," Fabius went on to say, likely before turning around to make sure Congress wasn't right behind him listening the whole time.