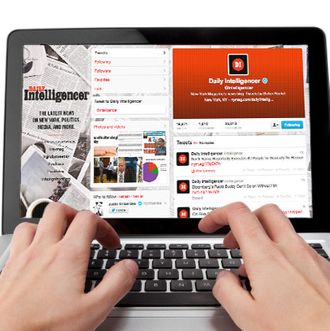 Welcome back to the New York Magazine Competition. On alternate Mondays, we lay out a challenge and offer a sample responses. Enter in the comments section, or on Twitter with the hashtag we've provided, and the editors will select a winner. Criteria are highly subjective, but heavily retweeted and favorited posts will have an advantage. The prize is a year's subscription to New York in print or a two-year subscription to the iPad edition (winner's choice). Full rules are here.
COMPETITION NO. 49: "COMMENCEMENT SPEECHES." Please suggest a (possibly not so effective) line from a graduation speaker of note. For example:
"I'm sorry this is starting so late—we were caught in traffic."
—Bill de Blasio

"In conclusion … [abruptly walks offstage]"
—David Chase

"Aim high."
—Wayne LaPierre

"Don't be caught up in the bright lights of fame. Personal fulfillment and growth are the key to happiness."
—Kris Jenner
Enter on Twitter with the hashtag #commencementspeakers, or in the comments thread below, by June 10.
RESULTS OF COMPETITION NO. 48: "BROADWAY SEQUELS," in which you were asked to invent a followup show. 
HONORABLE MENTION TO:
2 CATS 2 FUR-IOUS
JDuggar

A Little More Night Music
—BENLINUS99

Twice
—Hey_Joe

Guys and Dolls and Gender and Identity
—mouthfullerton

Damn Mets
—rgqueen

XanaTwo
—ferryliketheboat
More Cats
—queasyrider

The King and II
—JDuggar

The Vagina Dialogues
—clippityclop

Doctor 2hivago
—MiddleCoastDan

Spamalotmore
—gianna13

1777
—OldYeller62

Hairier
—@peter_huntley

Kinkier Boots
—FlirtySanchez

West Side Gentrification
—matthew.wasco

Funeral of a Salesman
—benji

Oh! Mumbai!
—rmtmiller

Sunday in the Park With Jeb
—RustyShackelford

The Iceman Goeth
—j_son

Rent 2: Mortgage Boogaloo
—abbagirl

Urinetown (Number Two)
—kaboomm

Something Decomposed
—iuliana_d

Well, Here I Am at the Forum
—@monty_ashley

Annie Get Your Plan B
—riverhawk

Brigadoom
—BobKopac

Little Sheba Came Back, and We Gave Her Your Room
—HudsonRiver
The People of River City v. Harold Hill
—@MollyYall

Jesus Christ, Still a Star
—Lexxman
AND THE WINNER IS:

Grannie
—alanmarkgreenspan