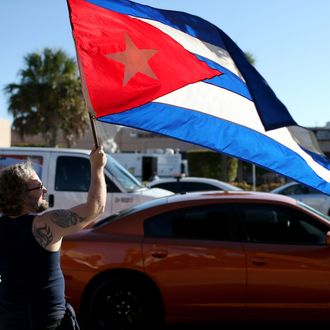 Abdel Rodriguez holds a Cuban flag in Miami's Little Havana on December 17, 2014.
Photo: Joe Raedle/Getty Images
In an attempt to thwart the Obama administration's attempt to ease relations with Cuba, on Thursday members of the Republican-controlled House voted 247–176 to block new rules issued in January that let Americans travel to Cuba without obtaining a license from the Treasury Department. Under the proposed changes, U.S. travelers would only have to claim that they were traveling for legitimate purposes. President Obama has threatened to veto the transportation funding bill, but you should probably come up with a better reason for why your presence is required in Havana.