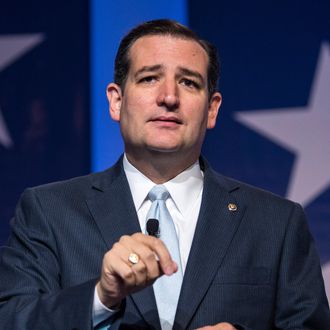 Ted Cruz.
Photo: Andrew Burton/Getty Images
Most presidential candidates could recite their stump speech in their sleep, but today Ted Cruz learned it's still important to pay attention to the words coming out of your mouth. At the Livingston County GOP Dinner in Howell, Michigan, on Wednesday night, the Texas senator repeated his standard jab at Joe Biden:
It's certainly not the most vicious Biden joke, but it's pretty insensitive to make fun of the vice-president on the eve of the funeral for his son Beau Biden, who died Saturday of brain cancer.
Cruz offered his condolences to the Bidens in a statement issued on Sunday, and he extended his sympathies again when approached by a Detroit News reporter after the event.
However, when asked about the joke, Cruz had a similarly un-classy response:
A few hours later, following a sizable online backlash, Cruz came up with a better answer:
Here's video of the joke, which the audience seemed to enjoy, and Cruz's exchange with Livengood: