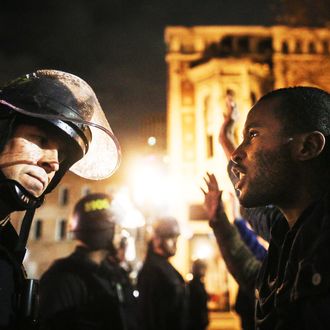 Photo: Elijah Nouvelage/Getty Images
Good news for free-speech advocates and regular old potty mouths: The New York State Court of Appeals has ruled that the NYPD was wrong to arrest Richard Gonzalez, a maintenance worker who, as the Associated Press put it, "shouted obscenities and gesticulated" at a group of officers in a subway station back in 2011. The cops deemed Gonzalez's bad language disorderly conduct, which gave them probable cause to search him. An (illegal) gravity knife was found on Gonzalez, and he ended up charged with possessing a weapon, as well.
Gonzalez was sentenced to three and a half to seven years in prison. But at the end of last week, the Court decided that his profanity-laced rant did not, in fact, constitute disorderly conduct, which was described as a dispute that reaches "a point where it becomes a potential or immediate public problem." (Because the officers used Gonzalez's not-so-disorderly conduct to justify the search that turned up the knife, the weapons charge and conviction were also tossed out.) As the Marshall Project explains, people are free to say what they want to the police so long as their words don't "threaten violence" or seem "likely to incite a violent response." So, know your rights — but also do your best to keep the cursing to a minimum when interacting with cops, who will continue to not take kindly to F-bombs, regardless of how many they lob themselves.