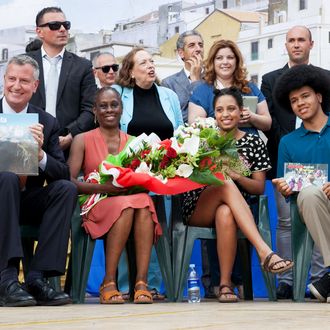 Photo: Giovanni Marino/Getty Images
It seems like just yesterday that we were watching young Dante de Blasio expertly steer a boat during the mayoral family's heavily watched July 2014 trip to Italy. Alas, things are going to be quite different this summer. According to the New York Times, Bill, Chirlane, Dante, and Chiara are leaving for an eight-day vacation "throughout the Southwestern and Western United States" on Tuesday, and (almost) no one is coming with them.
"This year, reporters are not invited. Aides said that Mr. de Blasio was intent on spending private time with family, especially as his youngest child, Dante, prepares to attend Yale in August," the Times reports. "No aides were expected to travel with the de Blasios this week; his team said that the mayor would check in daily by telephone with his senior lieutenants." They will be bringing a security detail just in case some desert-dwelling wacko decides to confront the mayor about how he eats his pizza.