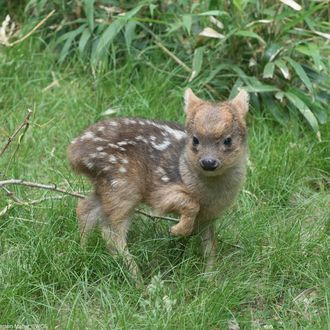 Photo: Julie Larsen Maher/Wildlife Conservation Society
A bunch of animal couples at zoos around New York state became proud parents this year, providing local news outlets with plenty of adorable front-page fodder along the way. No offense to those new moms and dads, but some of the babies are just straight-up cuter than others. Controversial, I know. Behold, the definitive ranking of the baby animals who debuted at New York's zoos in 2015, ranked from awww, that's cute to ridiculously adorable.
8. The king penguin chick who hatched at the Central Park Zoo. 
7. The baby baboon from the Bronx Zoo.
6. The Bronx Zoo's new baby gorillas.
5. The baby elephant born in May at the Syracuse Zoo.
4. "Monterey" and "Jack," the baby otters born at the Rosamund Gifford Zoo in Syracuse.
3. Zuri, the baby giraffe born at the Buffalo Zoo.
2. The Staten Island Zoo's baby lamb with panda markings, Earl.
1. The southern pudu fawn born this week at the Queens Zoo.