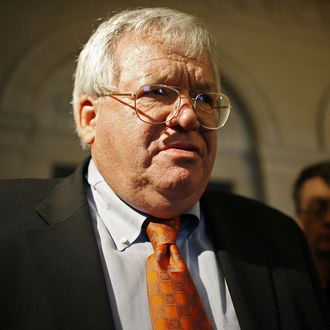 Photo: Chip Somodevilla/Getty Images
Dennis Hastert, the Illinois Republican who served for eight years as speaker of the House, has pled not guilty to federal charges of lying to the FBI about illegally structuring bank withdrawals. Hastert withdrew $952,000 in several increments, allegedly in order to pay off a former student he sexually abused without the bank having to report the withdrawals. 
The payments were allegedly part of an agreement by Hastert to pay $3.5 million to a person the indictment calls "Individual A" to keep them quiet for "prior bad acts" perpetrated by Hastert. "Individual A" is reportedly a male high school student who attended Illinois's Yorkville High School while Hastert was a teacher there.
Last week, a woman named Jolene Reinboldt came forward alleging that Hastert had sexually abused her brother, Steve Reinboldt, while Reinboldt was the team student manager of the school wrestling team Hastert coached. Steve Reinboldt is not believed to be "Individual A."