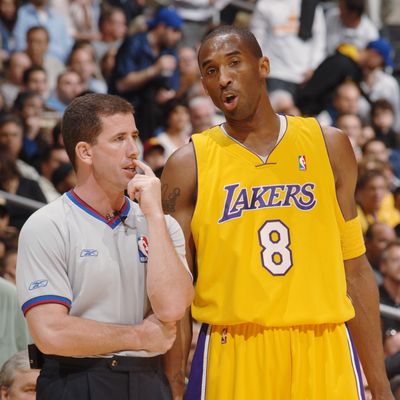 Kobe Bryant talks to referee Tim Donaghy
Photo: Noah Graham/NBAE via Getty Images
Tim Donaghy, the former NBA referee who was kicked out of the league and later went to jail for gambling on basketball, still swears he never threw a game with dubious fouls. It was easy enough to predict the outcome based on what he knew of the game from the inside, he insists. Now out of jail, Donaghy is using that inside information to help sports gamblers, selling his picks for NBA games on Refpicks. "I'm the only handicapper in the country who bases his picks on the refs," he says. How does knowing the officials help? Some can be bullied by coaches, and players, more than others, he says, which might mean an aggressive coach could generate a couple of favorable calls over the course of a game. Others have particular histories with players, histories that will inform their calls throughout the game. But sincere motivations play a role, too, he says; a ref that has blown a call in one game might want to find a way to make it up to the wronged team in the next one. We thought we'd ask him what he thought of the NBA Finals so far, and what he's made of the refereeing. My full profile of Donaghy will be in the upcoming issue of New York.
This interview with Donaghy about the NBA Finals was conducted in two parts. First, I spoke to him after the second game, when a couple of calls in overtime seemed to go against LeBron James, whose Cavaliers prevailed anyway.
What have you seen so far in the series? What are you keeping an eye on?
I expected Golden State to be more active offensively in the series, but in the first game it didn't happen. The refs didn't call a tight game. The whole series has been extremely physical. The refs are allowing LeBron James to be very physical on Steph Curry, hand-checking him and bumping him. The refs need to get that out of the game so the teams can show all their plays in games two and three.
Will they?
I think the league will get this cleaned up in game three and the refs will blow a lot of early whistles to get it done. The league would like to have free-flowing, high-scoring games. They don't want stars like Curry to get beat up in a 90–88 overtime game. They're hoping for a 105–100 game, but it's not happening.
Why not?
The games are way too physical so far, which doesn't allow the lanes to open up for baskets. I have no idea why the refs are allowing this, but the league should come in before the third game and say, "This is what we need to be corrected." The league doesn't want the series to go to a sixth game decided in the last seconds on a physical play at the buzzer and have the ref miss the call as he did in game two with 30 seconds left in overtime.
What did you make of that call?
LeBron James was clobbered on a shot and no whistle was called. There's no logical reason for ref Tony Brothers not to call that foul. It could've cost Cleveland the game. Just like those two no-foul calls in the fourth quarter on jump balls. The league's lucky Cleveland won game two or those three blown fouls could've determined the series.
I talked to him again after game three, another physical matchup, this one in Cleveland, again with the Cavs (and LeBron prevailing).
Tim, what did you think?
I was disappointed refs still tolerated a physical game. I'd picked Golden State and Cleveland stole it. Curry, a slick shooter but not a physical player, is at a disadvantage against James, a physical player now. Because the refs aren't enforcing the rule book. It's easier for refs to call a physical game and let things go. But that affects a player like Curry and favors James.
What do you make of the series going forward?
Now I'll have to reevaluate how I pick my teams if the league allows this kind of play to continue. The league's worst nightmare is for an obvious foul not to be called in the final seconds of the sixth game, which will fuck up the series.