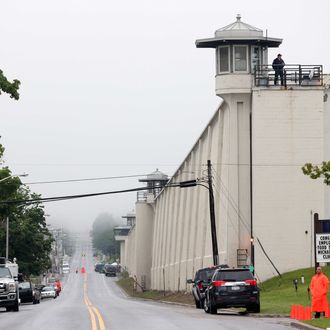 A guard stands on the wall at Clinton Correctional Facility on Monday.
Photo: Mike Groll/Corbis
A person driving in Willsboro, New York, saw two men walking down an empty road without sidewalks through a rain storm last night. The town happens to be 40 miles south of Clinton Correctional Facility, where two murderers escaped on Saturday.
"When the car this person was in approached, they took off into the fields," Shaun Gillilland, the town supervisor of Willsboro, told The Wall Street Journal. 
The driver called the police, who have arrived by the busload to try to find Richard Matt and David Sweat. There was another reported sighting of the pair this morning in the same area. Nearby schools are on alert, and police are stopping traffic throughout town.
Teresa Sayward, a former state representative who lives in Willsboro, has been watching the helicopters with her husband all day. "It's pretty frantic here," she told Daily Intelligencer. Her children own the Village Meat Market in town, and police stopped there to ask where some of the turkey blinds and trail cameras are located. It's a rural, farming community, and many of the residents hunt. "We're all armed," Sayward says. 
The New York Daily News talked to Richard House, who said, "This is a hard place to find someone. This is a very dense area. We are in the middle of the mountains. It's easy to walk into Canada from here. I've done it by mistake."