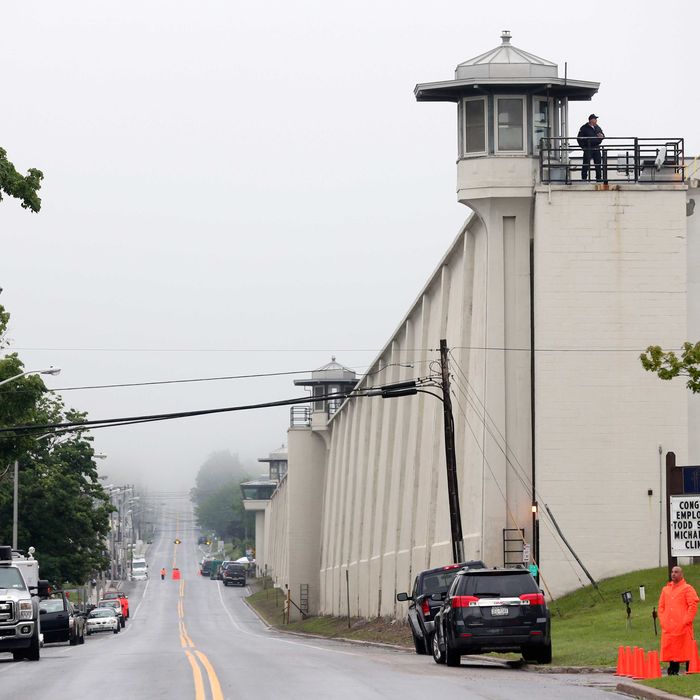 Clinton Correctional Facility in Dannemora, N.Y.
Photo: Mike Groll/Corbis
WHAT'S NEW

• A day after being shot and captured, David Sweat is in serious condition and is being treated at Albany Medical Center. Richard Matt was shot dead by law-enforcement officials last Friday.
• Sweat has spoken to law-enforcement officials about his escape plan. According to him, the original plan was to meet up with Joyce Mitchell, kill her husband, and drive to Mexico where they would live "happily ever after." When Mitchell didn't show up, they went north toward Canada instead.
• Sweat also said that he and Matt split up five days ago.
Here's a rundown — that will be continuously updated — of everything we know about the prison break.
RICHARD MATT
Matt, 48, was born in Tonawanda, New York, and spent most of his youth in foster homes and juvenile correctional facilities. According to the Buffalo News, he made his first prison break at 19, when he was serving a one-year sentence for third-degree assault. In June 1986 a guard at the Erie County Correctional Facility in Alden, New York, accidentally opened the electronic lock on his cell and Matt bolted, cutting himself severely while scaling two gates topped with razor wire. He was captured five days later at his brother's apartment.
He was jailed again in 1991 for allegedly raping a Buffalo woman and stabbing a nurse who was the mother of his child. While in custody, he met David Telstar, who had been accused of embezzling $1.3 million from his wife, an heir to the Warner Bros. fortune. Telstar posted bail for Matt, then offered him $100,000 to kill his wife, her parents, and her attorney. In an uncharacteristic move, Matt became a police witness, and Telstar later pleaded guilty to the charges.
After serving several more years in prison, in December 1997 Matt kidnapped, killed, and dismembered his former boss, 76-year-old food broker William Rickerson. Believing that Rickerson had large sums of money, Matt and his accomplice, Lee E. Bates, beat and tortured the man in his home. Then they bound Rickerson with duct tape, threw him in the trunk of a car, and set out on a 27-hour drive. Bates, who served 15 years for his role in the murder, told CNN this week, "Torture is probably an understatement." He saw Matt shove a knife sharpener in Rickerson's ear, bend his fingers back until the bones cracked, and snap his neck with his bare hands. Rickerson's dismembered remains were dumped in the Niagara River.
Matt fled to Mexico, where he was captured by local authorities after fatally stabbing a man outside a bar (he has a "Mexico Forever" tattoo on his back). He was extradited to the United States in 2007 and convicted the following year of second-degree murder, kidnapping, and robbing for slaying Rickerson. He was sentenced to 25 years to life, and the county jail arranged to have him shipped to state prison immediately. "For [at least] 25 years, he's someone else's problem," said Chief Deputy James R. Voutour. Juror Brett Sawyer compared Matt to a "cult leader," saying, "It seems he has a way of manipulating people to do things." A female juror commented, "There's no doubt that if he got out, he'd do something … It's sociopathic behavior. He needs to stay in there."
At Clinton Correctional Facility, Matt was known for his drawings of celebrities. He would often show them off to corrections officers and fellow inmates.
DAVID SWEAT
Sweat, 34, was born in Dickinson, New York, and had an extremely troubled youth, according to his mother. Pamela Sweat told the Binghamton Press & Sun-Bulletin this week that when her son was 9, he brought a butcher's knife to school in his backpack to deal with bullies, and later he tore the door off their bathroom and began stealing cars. David was put in a foster home and a group home, and Pamela does not know if he attended high school. She told the paper her son is verbally abusive and said his issues have given her health problems. "I don't want nothing to do with him," Sweat said. "He has tormented me since he was 9 years old, and now he's 34 and I feel like he's still doing it."
As a teenager, David Sweat was arrested several times on burglary charges and spent 19 months in the Buffalo Corrections Facility. In July 2002 Sweat and two accomplices stole a pickup truck in Pennsylvania, then burglarized a firearms and fireworks store. They had stopped in a park across the state line in Kirkwood, New York, to divide the stolen firearms when they were confronted by sheriff's deputy Kevin Tarsia. Sweat shot Tarsia and ran him over, and another man shot him twice in the face. Sweat pleaded guilty to first-degree murder and was sentenced to life without parole.
For years Pamela Sweat had been corresponding with her son weekly, but in an interview with WBNG Binghamton she said she hasn't heard from him in two months. In his last letter he asked for money, which she was unable to send him.
THE PRISON
The Clinton Correctional Facility in Dannemora, New York, is the largest maximum-security prison in the state, and one of the most notorious. It houses nearly 3,000 prisoners, who are guarded by about 1,400 corrections officers, and has held many famous inmates, including mafia boss Charles "Lucky" Luciano, serial killer Joel Rifkin, and rapper Tupac Shakur.
The men were last seen during a standing count inside the prison at 10:30 p.m. on Friday, June 5. During a 5:30 a.m. bed check the next day, guards realized they were gone.
The 170-year-old prison has been dubbed "Little Siberia," as it's located in the Adirondack Mountains, about 25 miles from the Canadian border. The New York Times reports that "nearly 90 percent of inmates at the maximum-security prison have been convicted of violent crimes, compared with an average of two-thirds statewide." A 2014 report by the Correctional Association of New York, an independent nonprofit that inspects state prisons, found that "overall, the level of physical violence and staff abuse and intimidation, the pervasive environment of oppression, the lack of proximity to any urban center, and the tensions derived from vast racial and cultural disparities between staff and incarcerated persons at Clinton epitomize the worst aspects of mass incarceration in New York State."
THE BREAK
Matt and Sweat were well behaved at Clinton Correctional Facility and had adjacent cells on the "Honor Block," which gave them more freedom than other inmates. According to the Albany Times Union, they were allowed to cook, visit other inmates' cells, and wear civilian clothing. The two men worked in the prison's tailor shop, where they sewed Metro-North uniforms.
Cuomo (who's cast himself as this tale's Tommy Lee Jones) was given a tour of their escape route on June 6, and his office released photos of the inmates' journey through the bowels of the prison. After leaving dummies fashioned from sweatshirts stuffed with laundry in their beds (complete with papier-mâché heads and clippings of their hair), Matt and Sweat exited their cells through neat holes cut into the quarter-inch-thick steel walls behind their beds.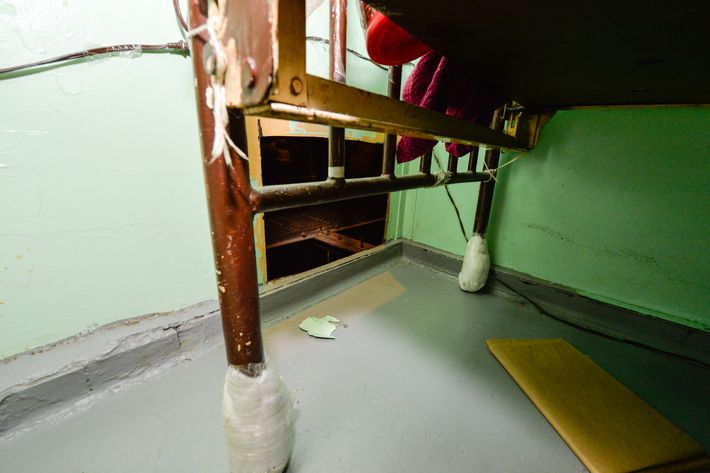 That led to a catwalk, which is about six stories high.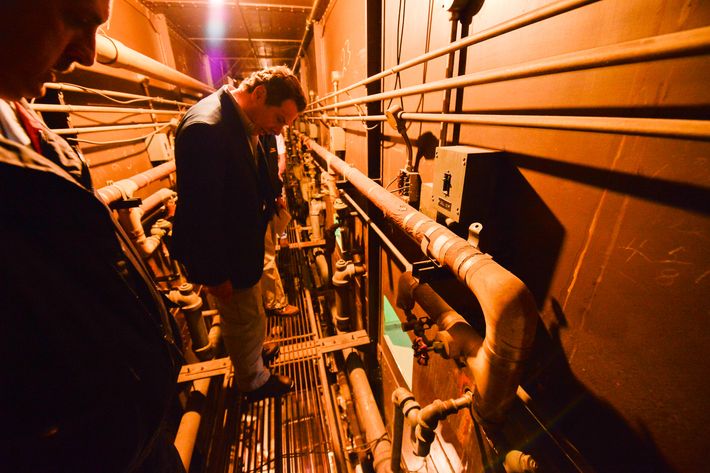 After climbing down, they made their way through the mazelike mechanical corridors and found themselves at a dead end.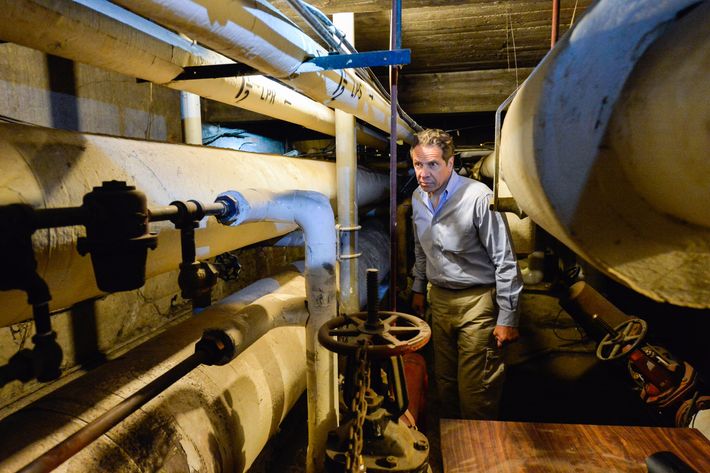 They made an unsuccessful attempt to drill into the thick prison wall, then cut into a 24-inch-wide steam pipe. Before climbing in, they paused to leave the message "Have a nice day!" and a racist caricature on a Post-It note.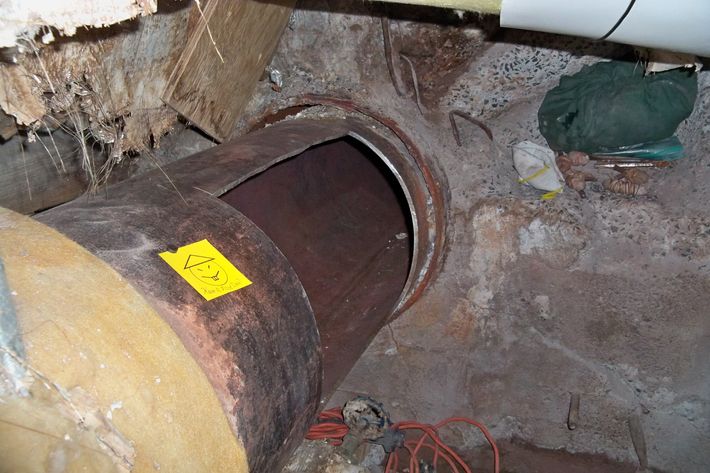 Then they shimmied through the pipe, cut another hole to escape, and sliced through the chain and lock on a manhole cover about 400 feet from the prison. (Three manholes around the prison were welded shut on June 14.)
A Dannemora resident believes he spotted Matt and Sweat in his backyard at 12:30 a.m. on June 6 as they were making their escape. He told ABC News that when he confronted the two men, one responded, "We're just lost. We don't know where we are. We're on the wrong street," then they bolted.
The witness says they were holding a guitar case, which, according to the Daily News, is what the two men were using to carry their tools. Clinton County District Attorney Andrew Wylie said on Sunday, June 14 that the men used tools stored in the prison. "They had access, from what we understand, to other tools left in the facility by contractors under policy and were able to open the toolboxes and use those tools and then put them back so nobody would notice," the prosecutor said. It appears that the men worked diligently over the course of many nights, scouting a path through the tunnel system, cutting through walls and pipes, then returning the tools by morning. During his visit to the prison, Cuomo told the inmates they must be "heavy sleepers."
Investigators think that Matt and Sweat questioned guards about the world outside of the prison walls for years, slowly amassing information about hunting cabins and geographical details that ended up being immensely helpful during the escape.
THE ALLEGED ACCOMPLICES
Joyce Mitchell, a 51-year-old industrial training supervisor who worked in the prison's tailor shop for seven years, was essential to the inmates' escape plan. On June 12, she was arrested for providing "material assistance" to the men, including supplying them with hacksaw blades, chisels, a punch, and a screwdriver.
She was charged with a felony — first-degree promoting prison contraband — and a misdemeanor — fourth-degree criminal facilitation, and could face seven years in prison. New York State Police She pleaded not guilty to the charges.
District Attorney Andrew Wylie said that Mitchell originally planned to pick the men up when they emerged from a manhole outside the prison. Mitchell told authorities that Matt and Sweat threatened to kill her husband, Lyle, if she didn't take part in the plan. 
Lyle Mitchell went on the Today show to try to reveal enough to keep the press away for a while. He said that the two inmates were trying to get close to most of the workers at the prison; Sweat and Matt said hello to him frequently too. Mitchell, who is still not sure what to think of this whole debacle, says that he is quite certain that he and his wife would both be dead if she had actually picked up the inmates, as originally planned.
She backed out of the getaway plan at the last minute. Mitchell checked herself into the hospital with severe chest pains. 
Mitchell was investigated in the past year for having a relationship with David Sweat and was allegedly charmed by Matt — who possesses a certain positive attribute in addition to being a sadistic killer. Mitchell allegedly told authorities that she had a sexual relationship with Matt. Her ex-husband and a former co-worker have come forward to detail alleged infidelities in her past, leading the New York Post to brand her as a "sex-crazed homewrecker" and write headlines like "Shaw-skank had closet sex with killer at least 100 times: ex-inmate."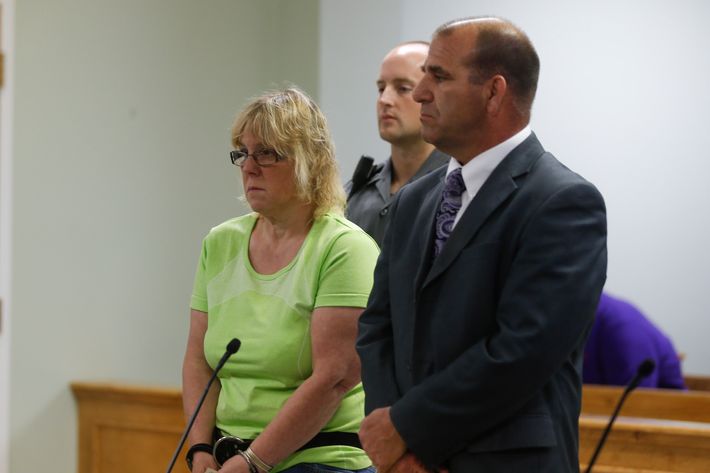 On June 15, Governor Andrew Cuomo announced the launch of a formal investigation by the state inspector general into "all factors" that led to the escape, the Times reports.
On June 19, corrections officer Gene Palmer was placed on administrative leave.
He had worked at the prison for 27 years. Palmer's neighbor, Sandy O'Neill, said his job involved escorting Matt and Sweat from their cells to the prison tailor shop. "He knew the two inmates and he knew Joyce; his job was to take them from their cells to where they worked," she said. "He said he never had any problem with them."
On June 22, the New York Post reported that Joyce Mitchell may have smuggled the tools to the prison inside frozen hamburger meat. Or, as the Post eloquently put it, "She was their hamburger helper." Mitchell allegedly asked corrections officer Gene Palmer to deliver the frozen meat to the convicts (since they were on Honor Block, they were allowed to cook meals).
Palmer was arrested on June 24 and charged with promoting prison contraband, tampering with physical evidence, and official misconduct. The plot thickened considerably when authorities discovered that Palmer had burned or hid in the forest several paintings that were clearly done in the style of noted prison painter Richard Matt. Palmer admitted that he did favors for Matt — like giving him a screwdriver or pliers — in exchange for paintings. He once helped mail a painting of Tony Soprano to a woman in Florida who sold it for $2,000 on eBay. Palmer also bought Matt painting supplies — and helped him hide them in places like … the catwalk behind Matt's cell.
Now that the search for Matt and Sweat is done, the FBI has opened an investigation into corruption — including drug trafficking — at Clinton Correctional.
THE MANHUNT
Two days after the break, Cuomo said the men could be "anywhere in the country," and announced that the state is offering a $100,000 reward for information that leads to their capture. "This is a crisis situation for the state," the governor said. "These are dangerous men. They are capable of committing grave crimes once again."
Hundreds of law enforcement officers participated in the search, and they were assisted by the FBI and the U.S. Marshals Service. The U.S. Marshalls Service added the men to their 15-most-wanted list, which is reserved for "worst of the worst" fugitives. Authorities in Canada and Mexico were put on alert, due to the prison's location, and Matt's affection for our neighbor to the south. The search cost around $1 million a day.
On Tuesday, June 9, there was a possible sighting in Willsboro, New York, prompting reports that law enforcement had the men "cornered" in the small town 40 miles south of the prison. 
On June 10, the focus shifted again after Governor Cuomo revealed investigators had information that "Vermont was discussed as a possible location." At the end of the week, the search moved to Cadyville, a town about three miles east of the prison. On June 20, hundreds of officers descended on Friendship, New York, a town about ten miles north of the Pennsylvania border and 350 miles from the prison. 
Someone else reported seeing the men back near Clinton Correctional Facility on June 20, and late on June 21, the focus shifted to a hunting camp near Owls Head, about 25 miles from the prison, after the camp owner saw a jug of water and a jar of peanut butter sitting on his table. He yelled for the person inside to come out, and saw someone run out the back. Authorities found DNA evidence proving that at least one of the escaped convicts was at the hunting camp. Boots, bloody socks, prison underwear, and toiletries were all found at the camp — a shotgun owned by one of the corrections officers who used the camp was not. 
On the afternoon of Friday, June 26, Matt was located after firing on a camper near Malone, New York. When U.S. customs and border agents responded to the gunshot report, they eventually discovered Matt in the nearby woods, and shot and killed the fugitive when he did not comply with their orders. At the time of his death, he was armed with a 20-gauge shotgun, though he never fired at the agents. According to an autopsy report, Matt was shot three times in the head. He was covered in bug bites and blisters. Authorities said he reeked of alcohol.
Earlier that day, a local reported that someone had broken into his cabin and left his bottle of grape gin on the kitchen table. He knew something was up, because this bottle of grape gin had sat untouched for years, and perhaps because it seems likely that only a very desperate person would ever drink grape gin.
On Sunday afternoon, a State Police sergeant, Jay Cook, saw a suspicious man wearing camouflage walking on a road in Constable, New York. When the man ran after being confronted, the officer opened fire, hitting David Sweat two times in the torso. Once captured, Sweat was then transported to Malone, New York, for medical attention, where he is, as of Sunday night, listed in stable condition. No officers or civilians were hurt in the confrontation. 
On Monday, Governor Cuomo said that Sweat had spoken to law-enforcement officials about his and Matt's original escape plan. According to Sweat, the convicts planned to kill Mitchell's husband, abscond in Mitchell's car when she came to pick them up, and head to Mexico to live "happily ever after."

When Mitchell didn't show up, they headed toward Canada instead. When Sweat was apprehended, he was less than two miles from the border.
According to Cuomo, Sweat was unarmed when he was captured. He had Pop-Tarts, maps, bug repellant, wipes, and several other tools in his backpack.

Sweat has also reportedly told officials that he and Matt split up five days ago. Sweat — who was far younger than Matt — felt that he was being slowed down by his companion. Sweat was not nearby when Matt was shot last Friday.
Sweat was already serving a life sentence when he escaped; it is likely he will spend many years in solitary confinement now too.