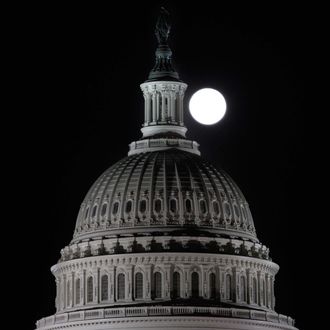 Photo: Hyungwon Kang/REuters/Corbis
Sixty senators voted to end debate on a bill that would make it easier for President Obama to finish negotiations on trade deals — like the Trans-Pacific Partnership, currently nearly completion. The bill will only need 51 votes to pass in the Senate; since the House has already passed a fast-track authority bill, the bill would head right to Obama's desk for signing if the Senate passes it, which it will likely do by the end of the day. The bill, if passed, would prevent Congress from filibustering or amending completed trade deals like the Trans-Pacific Partnership. The 11 other countries involved in the trade deal were worried that the deal had no chance if Congress had the ability to tinker with it after months of negotiation. 
Thirteen Democrats and 47 Republicans supported moving the bill forward; progressive Democrats have been vocal opponents of the Trans-Pacific Partnership. Senator Ted Cruz switched his support today, voting against moving the bill forward after previously voting for it. The presidential candidate wrote an op-ed on Breitbart News asking, "Why does Republican Leadership always give in to the Democrats? Why does Leadership always disregard the promises made to the conservative grassroots?" Only a few months ago, Cruz wrote an op-ed in The Wall Street Journal supporting the trade deal.
The AFL-CIO has vocally opposed the deal. On Monday, the union wrote a letter saying the TPP "will do nothing to prevent repeating the mistakes of failed trade policies that have contributed to stagnating wages, increasing inequality and the closure of more than 60,000 factories since 2000." Activists tried to turn the pro-trade and progressive senator Ron Wyden against the fast-track bill he helped co-author by following him around Oregon in a blimp and RV.
The Senate is separately considering legislation that would offer help to workers who lost their jobs because of the trade deal, or Trade Adjustment Assistance. This issue was originally dealt with in the fast-track — or trade promotion authority — bill, but was taken out because it was making it difficult to pass fast-track authority. This legislation will also promote trade with poorer countries in Africa.
Democrats have historically been very strong supporters of these programs to help workers, but voted against them this month in an effort to block fast-track authority. Since the issues are no longer linked, Republican leaders obviously hope that there is more of a chance that both can pass. Many conservatives are against TAA, but Senate Majority Leader Mitch McConnell is trying to win bipartisan support by adding a provision that would help the steel industry.