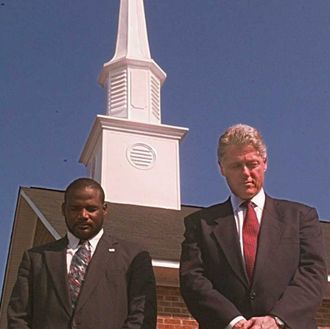 President Bill Clinton and Rev. Terrence Mackey praying in front of the new Mt. Zion AME Church before Clinton spoke at the dedication of the new church on June 12, 1996.
Photo: PAUL J. RICHARDS/AFP/Getty Images
On Tuesday night firefighters in Greeleyville, South Carolina, battled a fire at Mount Zion African Methodist Episcopal Church, a prominent African-American church about an hour north of Charleston. Since the shooting at Charleston's Emanuel AME Church two weeks ago, at least six churches with predominantly black congregations have been damaged by fire, sparking concerns that the incidents could be targeted attacks.
Three of the previous incidents have been ruled arson, and Mark Keel of the State Law Enforcement Division said investigators are on their way and federal agencies have been notified. He told The Post and Courier that the fire is particularly concerning in light of recent events, but he also noted that a storm had recently passed through the area, and it's possible lightning ignited the building. 
The fire was first reported around 9 p.m., and two hours later it was under control but still smoldering. There is a long history of black churches being targeted in racist attacks, and Mount Zion AME Church was burned to the ground by two former members of the KKK 20 years ago. The Reverend Nelson Rivers recalled working closely with ATF agents during a string of arsons at black churches in the '90s. "My prayer is that we're not having a repeat," Rivers told ABC News 4. "But we're not going to take chances and we are plotting where the churches have burned so far, reaching out to the pastors and the congregations, and also talking to the authorities in those areas to see what they think."