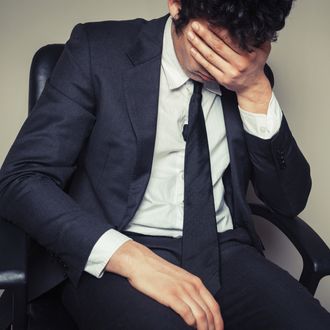 Photo: lofilolo/Getty Images
In an effort to prevent interns from dropping dead at their desks, Goldman Sachs has directed the crop of ambitious econ majors filling its halls this summer to spend no more than 17 hours at the office each day. Specifically, they're to stay away from midnight to 7 a.m., Reuters reports.
There are few industries where employers have to force interns to go home, but investment banking is one of them. The nearly 3,000 undergrads and business students playing dress up at Goldman this summer will be desperate to get noticed, and never leaving is one way to do that. But that's not always the most healthy choice — in 2013, a 21-year-old intern at Merrill Lynch died in his London apartment after pulling three all-nighters — and banks are increasingly dialing back duties for interns and junior employees.
Not that it's a completely selfless act. Sure, investment banks want their young charges to stay alive, but they also want to keep them from fleeing to Facebook.