Photo: Andrew Caballero-Reynolds/Getty Images
The Patriot Act expired, and Senator Rand Paul is running victory laps before Congress figures out how to foil him this week. Besides his successful campaign to end the Patriot Act, even if only for a few days, Paul has done an exemplary job of inspiring most of the Republican Party to come together and agree on an issue: hating Rand Paul.
The presidential candidate from Kentucky doesn't seem too hurt by the insults, especially since he managed to accuse his party of creating ISIS and hoping a terrorist attack would happen to prove him wrong (he's a bit sorry about that last one). How will making most of his colleagues in the Senate and presidential race intensely dislike him — when it comes to the Patriot Act, he has a few friends in the House and the Democratic Party — help Rand Paul get the presidential nomination? Despite all the attention he's getting, it probably won't. And despite how much the Republican Party may agree that Rand Paul makes them angry, it's doubtful it will have any luck in stopping him, and the two factions will just have to keep insulting each other until the end of time — or at least until medical advances allow Paul to filibuster for eternity.
"I don't stand with Rand."
"I've said on many occasions that I believe that he would be the worst candidate that we could put forward."
"I think he's nestled in with a very large bunch of very radical people — from the left to the right. I don't know if he feels comfortable being with all those leftists who hate the PATRIOT Act. But he has a right to do what he's doing.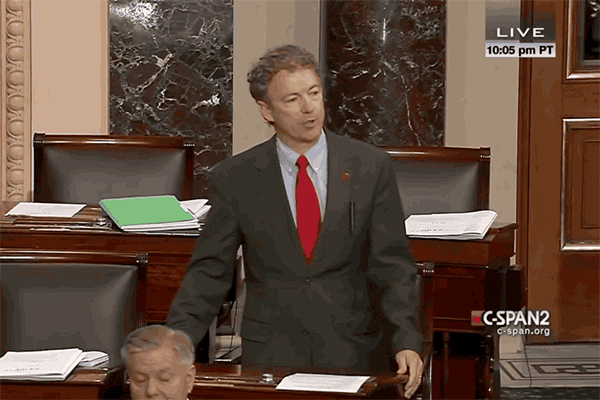 "Allowing any of these programs to expire is a mistake, but that's what is happening as a consequence of the reckless spreading of misinformation and political posturing.‎ Our country is now poised to be less safe and Americans at greater risk from growing terrorist threats."
"I think Rand has fabricated in his own mind — and that's what he says on the Senate floor — what this program is. It's so far from the truth that I don't think you find any other members associating with him."
"I am also extremely disappointed lawmakers allowed a lapse in our ability to hunt down terrorists plotting against Americans."
"Anything that goes against anything he believes, he never comes."
"I respect Senator Paul on this, but I think he's wrong."
Louisiana Governor Bobby Jindal
"This is a perfect example of why Senator Paul is unsuited to be commander in chief."
New Jersey Governor Chris Christie
"If he thinks it's not nice to disagree, he's probably in the wrong race."
"I think he's wrong. I don't understand why, if it's going to happen on Wednesday or Thursday, he doesn't allow it to happen today."
"It sounds like Bernie Sanders, not like some Republican running for president."