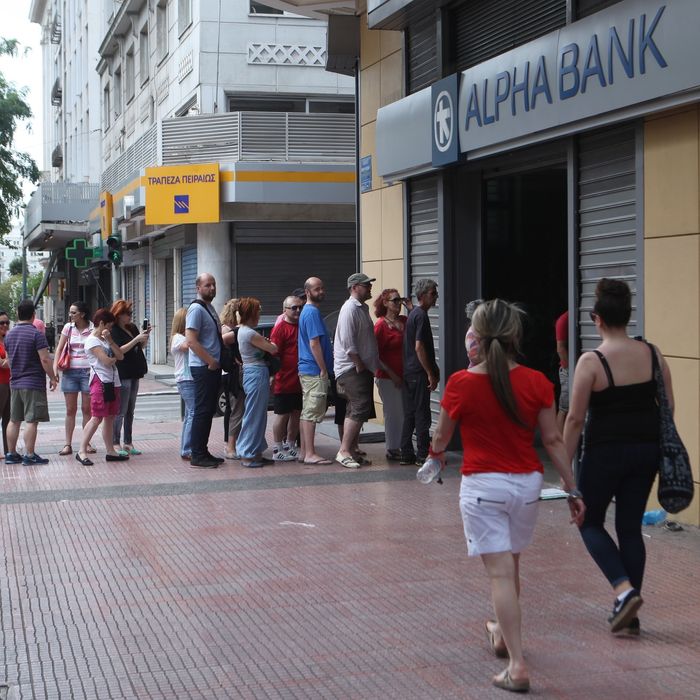 People wait in a queue in front of a bank's ATM to withdraw their cash in Athens, Greece on June 28, 2015.
Photo: Ayhan Mehmet/Anadolu Agency/Getty Images/2015 Anadolu Agency
Greece's years of financial problems are coming to a head, and there could be serious ramifications for the entire European Union, and beyond. Greek leaders announced on Sunday that all banks will be closed for six days, starting Monday, and ATM withdrawals will be limited to €60 a day ($66).
Greek prime minister Alexis Tsipras urged people to remain calm. "In the coming days, what's needed is patience and composure," Tsipras said. "The bank deposits of the Greek people are fully secure. The same applies to the payment of wages and pensions – they are also guaranteed." But over the weekend Greeks flocked to ATMs, waiting in long lines to withdraw money for necessities while they still could. "Everybody was taken by surprise, and people started panicking," John Tzamaloukas, who waited 90 minutes in an ATM line in Athens, told the Washington Post. He said he has a 1-month-old daughter at home, and "you need money to buy milk."
There were also long lines at gas stations following rumors that people would not be able to use credit or debit cards. According to the Associated Press, Hellenic Petroleum, the country's largest refiner, has said there is enough fuel to last for months, and Greeks will be allowed to use their cards and other forms of electronic transactions.
The restrictions don't apply to those with foreign accounts, but with ATMs running dry and businesses insisting on cash payments, many tourists are being forced to cut their vacations short. As The Wall Street Journal notes, that's making the situation even worse, as tourism is one of Greece's main sources of earnings.
After months of negotiations between Greece and the nation's creditors, on Friday Prime Minister Tsipras announced there will be a referendum on July 5 to decide whether to accept the terms of a bailout offer from the international creditors. The New York Times' Neil Irwin explains:
A "Yes" vote means that Greece will continue the grinding era of austerity that has caused so much pain to its citizens over the last five years, in exchange for keeping the euro currency and the monetary stability it provides.

A "No" vote almost certainly means that the country will walk away from the euro and create its own currency (which will surely devalue sharply), bringing financial chaos in the near term but creating the possibility of a rebound in the medium term as the country becomes more competitive with its devalued currency.
The European Central Bank said on Sunday that it will not increase the emergency loan program that has been keeping Greece's banks afloat. Greece is due to repay the International Monetary Fund $1.8 million on Tuesday, but it may default on the payment. That may lead to Greece being forced out of the eurozone, and possibly even the European Union. It's unclear what would happen in that case, since no national has left the 19-nation currency system since it was started in 1999.
The White House said on Sunday that President Obama spoke with German chancellor Angela Merkel on Sunday, and "The two leaders agreed that it was critically important to make every effort to return to a path that will allow Greece to resume reforms and growth within the eurozone." But the next few days will be critical for the future of Greece and the EU, and some say the prognosis isn't good. "There's an 85 percent probability that Greece will be forced to leave the euro zone," Mohamed El-Erian, the former chief executive at Pacific Investment Management Co., told Bloomberg View. "What we are seeing here is what economists call the sudden stop, when the payment system stops. The logic of a sudden stop is a massive economic contraction, social unrest and it's going to make continued membership of the euro zone very difficult for Greece."