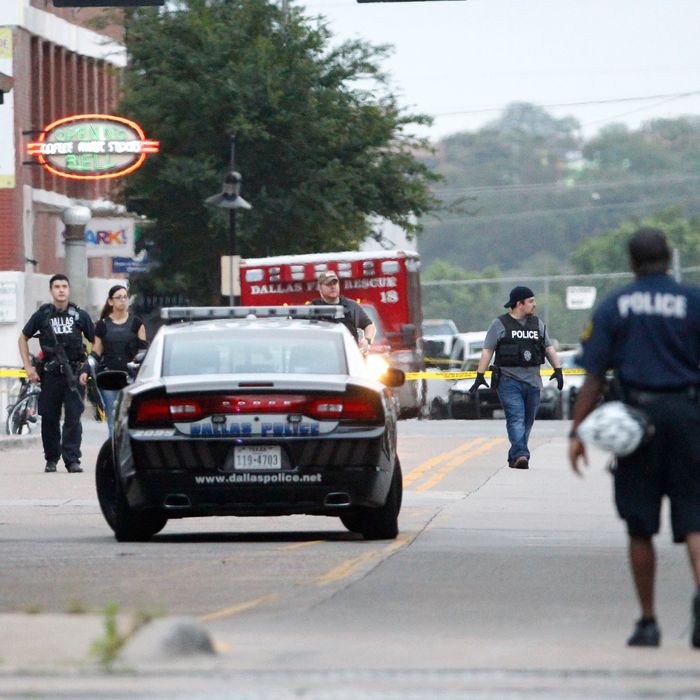 Dallas police officers walk down Belleview Street one block away from police headquarters searching the area.
Photo: Tony Gutierrez/AP/Corbis/© Corbis. All Rights Reserved.
A gunman in an armored assault van attacked Dallas Police headquarters early Saturday morning in Texas, firing on the station with automatic weapons and leaving behind pipe bombs before fleeing the scene with police in pursuit. According to the Guardian, the suspect was shot and killed by police after a resulting chase and standoff. Remarkably, the 35-year-old assailant, James Boulware, was the only person harmed, as no other injuries have been reported. Following the assault, a dozen police cars pursued the van for about ten minutes before cornering it by a fast-food restaurant in the nearby suburb of Hutchins. A police sniper eventually disabled the van's engine block, though parts of Interstate 45 were closed in both directions as a result of the standoff.
The attack began around 12:30 a.m. Saturday when Boulware drove up to the station in his custom-armored van, which was sold as a "Zombie Apocalypse Assault Vehicle," and started firing at the building and nearby police vehicles. Dozens of bullet holes have been found outside and inside the headquarters, and a few officers narrowly avoided being struck. Originally, Dallas police had heard from witnesses that as many as four assailants were involved in the attack; however, authorities now believe Boulware carried out the assault alone, though it may have seemed like there were additional attackers because he fired from multiple locations near the station. After opening fire, Boulware retreated from the station, ramming a police car and then exchanging fire with police before driving away from the scene with officers in pursuit.
Here is video of the last part of Boulware's assault as captured by nearby residents:
In addition, authorities found five suspicious packages and two explosive devices — pipe bombs filled with nails and screws — left outside the headquarters by the attacker:
Citizens residing near the station had been asked to evacuate as a result of the search for more bombs, though as of mid-Saturday morning they were allowed to return to their homes.
After staging the attack on the headquarters, Boulware phoned 911, identified himself, and announced that he was going to blow up police officers because they had taken custody of his son and accused him of being a terrorist. At the scene of the confrontation in Hutchins, Boulware and police again exchanged gunfire, and police eventually traced his 911 call and contacted him, which led to hours of attempted negotiation. When the suspect became increasingly frenzied during those conversations, police made the decision to shoot him.
Boulware lived in a Dallas suburb and seems to have had a history of family violence and mental illness. In addition, confirming the motive indicated in Boulware's 911 call, his father told a local television station that Boulware had reached a "snapping point" over losing custody of his son (Boulware's mother now cares for the child). The Dallas Morning News reports that Boulware had previously been arrested in Paris, Texas, in 2013 after amassing firearms and body armor and then threatening to attack his family, churches, and schools. They add that "it appears the case against him was dismissed last year after he fulfilled requirements a judge had imposed." The Morning News also has some bizarre details about Boulware's vehicle:
The van had a Georgia license plate, and online records indicate that a company in Newman, Ga., sold a similar vehicle on eBay for $8,250.

The company that sold it, Jenco Sales Inc., described the vehicle on Facebook: "Zombie Apocalypse Assault Vehicle and Troop Transport. This full armored zombie busting vehicle features convenient gun ports so no zombie juice touches you during a mass zombie take down. It also has benches in the back so you can take turns resting during long Zombie sieges. The tactical step boards are installed for when you only need swords and axes for drive by mow downs. The bumpers are made of reinforced steel tubing, so no dents from smashing zombie heads! It's full armor plated and has bullet proof windows just in case you run into other zombie hunting hordes who might try to take this bad boy from you. Like anything, there is a price attached to this fine piece of zombie fighting machinery."
Boulware told police he had rigged the van C-4, so after a police sniper shot him, bomb disposal robots were used to check the van for explosives before confirming his identity and condition:
Actually, that was the robot using a shotgunlike round to try and open the van's window. More tweets from the end of the ordeal:
This post has been updated with additional details as they have become available. Also, it initially seemed that the suspect, James Boulware, was 50 years old, but updated reports indicate that he was 35.
Sources