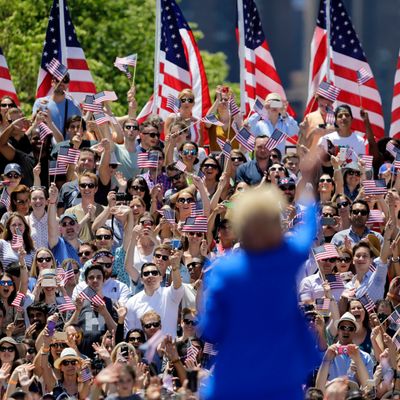 Hillary Clinton waves to supporters Saturday, June 13, 2015, on Roosevelt Island in New York.
Photo: Frank Franklin II/AP/Corbis/© Corbis. All Rights Reserved.
They began gathering early Saturday morning, trekking out from Brooklyn and Manhattan in sensible footwear and khakis, to see Hillary Clinton announce her bid for president. This was, technically, not the first time Hillary announced: that came in the car insurance ad the campaign released in mid-April. But presidential announcements are the new birthdays — you have to stretch out the fun for as long as humanly possible. And so Hillary fans found themselves on Roosevelt Island, formerly a home for the city's poor and socially undesirable, with the skyline looming large in the background, listening to Katy Perry and Pharrell on repeat. "We are in the shadow of Manhattan and we're in the shadow of Queens," said Chris Bastian, a Brooklyn Heights transportation coordinator wearing a vintage Hillary T-shirt. "New York is the microcosm of America. It's got rich, and very rich. It's got poor and very poor. It's got Hispanic, Asian, young, old, retirees. Every voter Hillary is going to run into out on the campaign trail."
As it happened, Clinton tried to throw in a little something for every one of those voters in her first big campaign rally — except maybe the rich. This was a classic populist Democrat's pitch — an "it's the economy, stupid" speech updated for the post-financial-crisis era. "You have to wonder: When does my hard work pay off? When does my family get ahead? When? I say now," she told the screaming crowd. "Prosperity can't be just for CEOs and hedge-fund managers. Democracy can't be just for billionaires and corporations. Prosperity and democracy are part of your basic bargain too. You brought our country back. Now it's time — your time — to secure the gains and move ahead. And you know what? America can't succeed unless you succeed."
For months, Democrats have been urging Clinton to make the case for why she deserves to be president, why she's fighting and who she's fighting for. On Saturday, she tried to answer them: "We can build an economy where hard work is rewarded," she said. "We can renew the promise of our democracy if we all do our part." She asked those watching to "help me build this campaign and make it your own."
The speech fit with the theme of Hillary's first announcement video, which was built around the stories of ordinary Americans preparing for big changes in their lives. It barely featured the candidate at all — the overarching message being, "It's not about me. It's about you." But it was not the speech the campaign hyped in the New York Times and Politico yesterday, in stories previewing how Clinton would use the theme of her mother Dorothy Rodham's life — one of personal hardship made tolerable by the generosity of others — as the narrative grist for explaining what motivates Clinton to fight for everyday Americans.
"Her story is wanting to be an advocate for other people. Where does it all come from? That's where it all comes from," Clinton's communications director, Jennifer Palmieri, told Politico. "We think that's an important thing for people to understand. Some people know it, we think a lot of people don't."
It would have signaled a major change in how the normally guarded candidate planned to run her campaign. Though she hasn't talked about it much on the trail, her mother's struggles have been a poignant motif in Clinton's writing for more than a decade. "I'm still amazed at how my mother emerged from her lonely early life as such an affectionate and level-headed woman. She was born in Chicago in 1919," her 2003 book, Living History, begins. "My maternal grandparents were certainly not ready for parenthood."
After Clinton's grandparents divorced, they sent an 8-year-old Dorothy with her baby sister on a train trip across the country to live with their grandparents. The living situation was not much better. Dorothy's grandmother was a severe woman in Victorian dresses who once forbade Clinton's mother from eating at the dinner table for a year after catching her trick-or-treating one Halloween. At 14, Dorothy fled to work as a nanny and housekeeper for a family that paid her $3 a week plus room and board. For the first time, she saw what a functional family looked like. After graduating high school, she planned to attend college, and her mother lured her back to Chicago with the promise of help paying for school. But when she arrived, she realized her mother only wanted her there for household help — there would be no money for school. "Heartsick, she moved into a small apartment and found an office job," Clinton writes. Not going to college would be among her greatest regrets.
By the end of Hard Choices, the book Clinton published last year in advance of her second run for president, Clinton was coming to terms with her mother's death, connecting her own experiences of becoming a mother and a grandmother with losing her mom. "From the moment I first held Chelsea in my arms in the hospital in Little Rock, I knew my mission in life was to give her every opportunity to thrive … And now that she's expecting a child of her own, I'm preparing for a new role that I've looked forward to for years: grandmother. And I've found myself thinking a lot about my relationship with my own mom, as an adult as well as in childhood, and what lessons I learned from her." The book ends with her mother's funeral. "I looked at Chelsea and thought about how proud mom was of her," she writes. "Mom measured her own life by how much she was able to help us and serve others."
It was a touching theme in the book, but it didn't really come across in the speech — maybe because Clinton wanted to keep her personal touches light. "I may not be the youngest candidate in this race, but I will be the youngest woman president in the history of the United States," she said. "You won't see my hair turn white in the White House, because I've been coloring it for years!" The crowd ate it up.