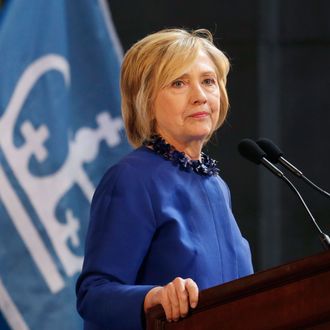 Hillary Clinton.
Photo: Mark Lennihan/Corbis
The State Department said on Thursday that 15 emails uncovered by a congressional committee investigating the 2012 attack in Benghazi, Libya, were not included in the 55,000 pages of emails Hillary Clinton provided the agency. It turns out having your own staffers search through thousands of emails to determine whether they're work-related does not produce very accurate results — but how could Clinton have known that when she was ignoring government guidelines on personal email? 
The emails were discovered when the House committee subpoenaed Sidney Blumenthal, a longtime Clinton aide who was barred from working at the State Department by the Obama administration. He handed over dozens of emails he exchanged with Clinton, and the State Department found nine of those messages and portions of six others were not provided by the former secretary of State. The emails were all sent prior to the attack and mostly consist of intelligence memos sent by Blumenthal, who was working on a business venture in Libya, and some brief responses from Clinton.
A Clinton spokesman offered no explanation of the discrepancy. "She has turned over 55,000 pages of materials to the State Department, including all emails in her possession from Mr. Blumenthal," he told The Wall Street Journal. "We do not recognize many of those materials [provided by Blumenthal] and cannot speak to their origin."
While the emails contain no information directly related to the attack, Republicans say they're significant because they prove Clinton has been lying about emails kept on the server in her home, which has reportedly been erased. "These new messages in many instances were Clinton's responses, which clearly show she was soliciting and regularly corresponding with Sidney Blumenthal — who was passing unvetted intelligence information about Libya from a source with a financial interest in the country," the House panel said in a statement. "It just so happens these emails directly contradict her public statement that the messages from Blumenthal were unsolicited."
However, Democrats say that polite responses to Blumenthal's missives do not mean that Clinton was "soliciting" his input on Libya. "This Benghazi select committee has become the committee to investigate Hillary Clinton. Period," said Elijah Cummings, the top Democrat on the House committee.