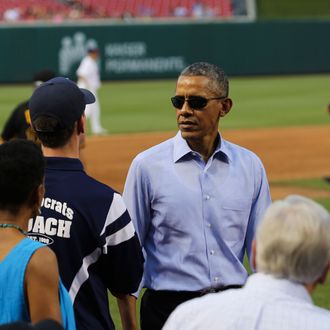 Photo: Aude Guerrucci-Pool/Getty Images
It turns out that shaking hands and schmoozing with legislators wasn't going to fix all of President Obama's problems after all. Although the president went up to Capitol Hill to beg House Democrats to vote for a bill that would provide financial assistance to workers hurt by global trade — known as Trade Adjustment Assistance — the bill failed 302 to 126. Not even going to watch the congressional baseball game last night helped!
The provision was something that House Democrats usually support, but making sure the president did not get fast-track authority was the party's bigger priority.
The defeat made the chances that Obama will ever get fast-track authority to help wrap up the Trans-Pacific Partnership deal-making slim — and made it seem more impossible that the deal has any chance of survival. 
Moments before the vote, House Minority Leader Nancy Pelosi said on the floor, "I will be voting to slow down fast-track."
The trade deal has been a rare moment when Republicans have sided with the White House more often than Democrats, who worry that the trade deal will hurt American workers — and that the negotiating process with the 11 other nations involved in the deal has been too secretive. 
Representatives from both parties have taken to Twitter to explain the reasoning behind their votes.