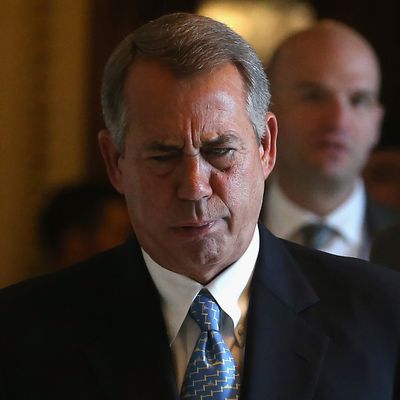 No more Mr. Nice Speaker.
Photo: Mark Wilson/Getty Images
Late Wednesday, while most of his Republican colleagues were celebrating passage of a bill designed to give the president authority to fast-track trade negotiations, the House GOP's freshman class president was girding himself to fend off a revolt. "Republican Leadership representatives have been meeting in secret and have now called a snap election to impeach me as Freshman Class President because I voted against ObamaTrade," Representative Ken Buck wrote in a fund-raising blast to his campaign supporters. "Bring it on."
Fast-track authority on the Trans-Pacific Partnership finally passed Congress this week after a month of tense negotiations and setbacks that bitterly divided Obama from congressional Democrats. Now that congressional Republicans have passed it and sent it to the president, though, most Democrats are falling in line, promising their support for a companion bill meant to help workers affected by the impending deal. But as Buck's email blast shows, Republicans are still grappling with the fallout, too. It wasn't just Buck — several other House Republicans claimed they were being punished by leadership for not voting the party line. The intraparty skirmish in the wake of a major legislative success lays bare broader divisions dogging the GOP as it tries to become a functioning congressional majority.  
Buck was previously best known for losing a Colorado Senate seat in part because he was caught on camera telling supporters that they should vote for him because, unlike his female opponent, he doesn't wear high heels. (The comment, along with his staunch opposition to abortion even in cases of rape or incest, helped Democrats define the GOP as waging a "war on women" in 2010 — and probably saved the Democrats from losing the Senate.) After his loss, Buck stayed out of the spotlight until last year, when he decided to run for the House seat vacated by now-senator Cory Gardner. Buck won the seat, and last November was elected freshman class president, a largely ceremonial role, by his fellow classmates.
After being sworn in, Buck became ideologically aligned with the newly formed Freedom Caucus — an organization formed by the hardest right elements of the House after earlier, similar organizations, including the Tea Party Caucus and the Republican Study Committee, splintered under the weight of in-party fighting or came to be seen as too friendly to GOP leadership. Two weeks ago, 34 House Republicans, several of them Freedom Caucus members, broke with leadership on a procedural vote dealing with the trade legislation — nearly dealing Republican leaders a major, if ultimately temporary, blow.
Previously, House Speaker John Boehner has talked a lot about letting the House "work its will," which in practice has meant allowing a fractious GOP divide itself on major issues, weakening leadership's hand in negotiating deals with the White House and resulting in near disasters on raising the debt ceiling — not to mention a two-week government shutdown. Now that Republicans have the House and the Senate, though, some party leaders are getting tired of their tea party colleagues' antics — which, they say, have been egged on by powerful outside conservative groups like Heritage Action, the activist arm of the old Washington think tank, and Redstate, a wildly popular conservative website.
"All most all of these guys who are with the so-called 'Freedom Caucus' and even some of the other people who vote 'no' on one thing or another don't do it because they believe it's right," one congressional Republican source told me. "Probably only Justin Amash" — a House libertarian known for his principled "no" votes on just about everything — "and a few others actually believe it. Most of them do it out of laziness. They're in districts that are extremely safe and they realize it'll just be easier to vote however Heritage Action is telling them to vote than to explain to the people who show up to the tea party meetings why Heritage Action is wrong."
"I don't think there's really justified opposition to [TPP] if you're a conservative," says the source. In 2010 the GOP ran to take back the House and Senate, arguing that the president would have to embrace their agenda if they won both houses. "We won both houses. Free trade is a pillar of modern conservatism. And all of a sudden, the president has fully embraced it and is fighting his own party and they don't know what to do with themselves."
Republicans in leadership and their allies have started pushing back. Three members who voted against the rule were kicked off the leadership's vote-counting team. Utah Republican Jason Chaffetz, chairman of the Oversight and Government Reform Committee, stripped fellow Republican representative Mark Meadows, of North Carolina, of his subcommittee chairmanship this week. There have been other punishments for intransigent members as well. On Thursday Politico reported what happened to one Florida Republican, Representative Richard Nugent, who voted against Boehner for Republican leader earlier this year: "Campaign checks from corporate political action committees have all but dried up. GOP leaders have prohibited him from traveling on congressional trips overseas. Bills that Nugent has written have been snatched away and doled out to other members of the House Republican Conference. And Boehner kicked him — and Webster — off the influential Rules Committee." The story included a very unflattering anecdote Boehner shared with colleagues about Meadows dropping to his hands and knees to beg for forgiveness after taking part in discussions to oust Boehner.
When two GOP freshmen close to leadership called for a meeting to discuss their class president Thursday morning, Buck and his allies moved quickly to rally the troops. "The Republican Leadership in Congress has decided to rapidly, and without due process, strip Buck of his status as Freshman Class President," wrote Erick Erickson, editor-in-chief of Redstate, on his blog. "Ken Buck is the GOP's latest target for retribution," Heritage Action said, blasting Boehner in a press release.
The freshman class president, Boehner's aides noted, is elected by their colleagues, not chosen by leadership. Representative Mimi Walters, the freshman close to leadership who called for the meeting, said the members of the class were looking to have a broader discussion about the leadership of their group.  "A majority of the freshman class has expressed concerns I share regarding the leadership of our class President," Walters said, in a statement passed along to me by her spokesman. "In addition to regular business, tomorrow, we will also be discussing the direction of future leadership."
In the end, the outcome wasn't nearly as dire as Buck and his allies predicted — maybe in part because of the fuss they kicked up. The freshmen met Thursday morning and chose to keep Buck as their leader. "We had a good conversation," Representative Carlos Curbelo told the Hill. "We resolved many of our differences … and I don't foresee that we'll have a problem." On the same day, Chaffetz moved to reinstate Meadows as subcommittee chair after facing pushback from several of his committee members. The optimistic interpretation, for Republicans anyway, was that the party moved quickly to get beyond their family feud. The more pessimistic — and probably more realistic — interpretation is that they can't meaningfully discipline their offending members without risking a greater revolt, both inside the House and from the outside groups that have been needling them since they won the majority. "Disgusting," spat an anonymous Boehner ally to Politico, of the decision to reinstate Meadows.
Still, Buck didn't let a good victory go to waste. "I'm proud to represent you and vote for you even if you live outside my district," he tweeted Thursday morning. "I am still the Freshman Class President."