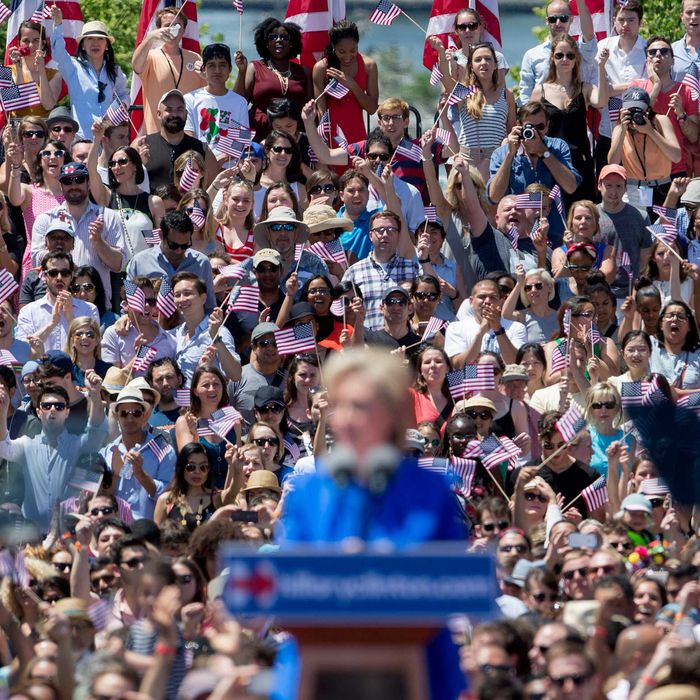 Supporters cheer as Hillary Clinton, former secretary of state and 2016 Democratic presidential candidate, arrives to speak at her first campaign rally at Four Freedoms Park on Roosevelt Island in New York.
Photo: Andrew Harrer/Bloomberg via Getty Images
Only a few years ago, the basic premise of the Emerging Democratic Majority — the theory that Democratic-leaning constituencies were growing as a share of the population — was deeply controversial. Analysts like Sean Trende denied before the 2012 election that the nonwhite vote was likely to continue rising at all. Now it is more or less a matter of general agreement, and the dispute has moved on to what it means.
David Wasserman crunches some numbers and predicts the level of demographic change that will be brought to bear on the 2016 electorate. The white vote is expected to drop from 72 percent of the electorate to 70 percent. Wasserman calculates that if every cohort votes the same way as in 2012, the Democratic margin will grow from the 3.85 percent margin that separated Barack Obama from Mitt Romney to 5.4 percent. Here is the state-by-state breakdown: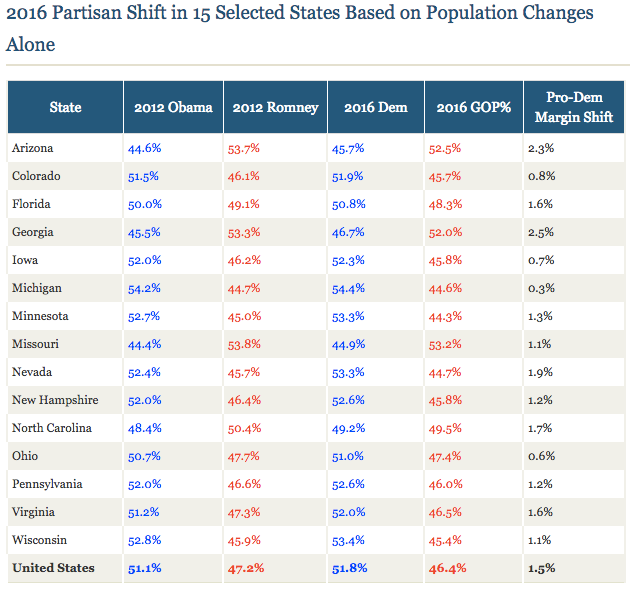 Like many neutral and even liberal analysts, Wasserman frames this finding in a very cautious way. His headline is "Mapping the 2016 Electorate: Demographics Don't Guarantee a Democratic White House." And, of course, nobody thinks demographics guarantee a Democratic White House. Maybe Republicans can do a much better job of mobilizing their base than the Democrats this time, or maybe a big event like a recession will darken the skies for the Democrats. But in a closely divided electorate with relatively few swing voters, one and a half percentage points is a lot.