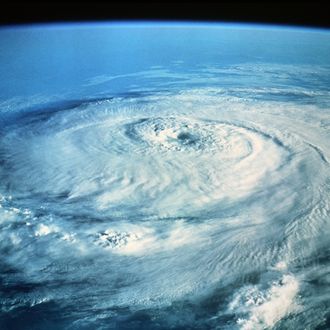 Photo: InterNetwork Media/(c) InterNetwork Media
June 1 marks the beginning of hurricane season in the Atlantic, and although no storms have hit yet, all their names have already been picked out — Claudette, Odette, Joaquin, and Mindy are a few that could appear. 2015 marks the tenth anniversary of the busiest hurricane season ever, which had 15 hurricanes, including Hurricane Katrina. It's an unprecedented stretch that researchers have credited to "luck." Numbers-wise, the National Oceanic and Atmospheric Administration predicts that this year will be pretty quiet on the hurricane front thanks to El Niño, with an estimated three to six hurricanes (an average season features six). However, scientists don't want you to interpret that as a reason not to be prepared. 
As a meteorology professor at MIT told the Associated Press, "It's just the laws of statistics. Luck will run out. It's just a question of when." Or, as a spokesperson at the National Hurricane Center told NBC News, "I guarantee you that remarkable streak is going to end. And we have to go into 2015 assuming that it's going to end this year." 
Many experts are especially worried about places like Florida, which hasn't seen a major hurricane in a decade — and has experienced its population growing quickly in the years since with people who have never experienced a major hurricane — and the coastal areas of Virginia, Maryland, and Delaware.
President Barack Obama is also making sure people are appropriately prepared for the next few months, regardless of what the forecasts say. The president visited the National Hurricane Center last week and noted that all the computers made him feel like he was "in a movie." He also helped with a forecast, but decided to leave that task to government experts for the remainder of the season. "Sometimes, we spend a lot of time griping about government bureaucrats," Obama said. "Suddenly disaster strikes and we realize how much we … depend on these folks."